more news
Point Park Alum Appointed Chair of Board of Trustees
Wednesday, July 19, 2017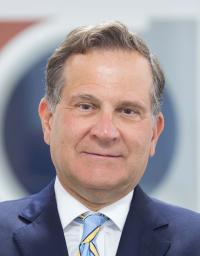 Joseph R. Greco Jr., CEO and chairman of the board of Greco Gas, Inc., and 1971 graduate of Point Park University, has been named chair of its board of trustees.
Greco takes over as chair of the board of trustees for Anne Lewis, who served in the role from 2011 to 2017.
"We are honored to have Joe assume the board chair role for Point Park," said Paul Hennigan, Ed.D., president of Point Park University. "Joe is a proud Point Park University graduate, and his advocacy for the University over the years has been a key driver in helping us get to where we are today. He is an ideal leader as we prepare for the next stage of innovative and experiential university education in Downtown Pittsburgh."
Greco Gas, based in Tarentum, Pa., is a private business established in 1941. The company distributes industrial and laboratory gases to businesses throughout the southwestern Pa. region. According to Greco, "My vision for the University is a simple one: educate our students to become productive participants in society and nurture a passion for lifelong learning that will be sustaining and fulfilling for all our Pioneers."
In addition to Greco's appointment, Rick Haskins, a 1971 Point Park University graduate, was named to the board of trustees. Haskins is a former vice president for development and alumni relations for the University, where he was responsible for managing capital campaigns, strategic planning, board recruitment and development. Prior to his position at Point Park, Haskins was a partner with Jerold Panas, Linzy & Partners, one of the nation's most highly regarded firms in the field of campaign services and financial resource development. He is currently a consultant in nonprofit management.
Returning trustees to the board are:
J. Kevin McMahon, president and CEO of the Pittsburgh Cultural Trust, a $60 million private, nonprofit agency established in 1984. The Trust promotes the cultural and economic growth of Downtown Pittsburgh through the development of the Cultural Trust, a 14-block arts and entertainment center in Downtown Pittsburgh. McMahon served as a University trustee from 2001 to 2016.
Jimmy Miller, a 1980 alumnus of Point Park University and University trustee from 2001 to 2016, is a talent manager, producer, and founder of Mosaic, one of the most respected talent management companies in Los Angeles. Miller manages actors such as Will Ferrell and Tea Leoni, as well as writers/directors Judd Apatow, Adam McKay and Jay Roach. Miller was most recently an executive producer of the ABC comedy Downward Dog, filmed in Pittsburgh.
Mary Beth Taylor, a 1977 Point Park University alumna with a degree in journalism and mass communication, previously served as a University trustee from 2005 to 2016; she will assume the role of vice chair of the board. Taylor was a reporter for the Tribune-Review in Greensburg and attained her juris doctor from the University of Pittsburgh School of Law in 1983. She is retired from her position as assistant attorney general-compliance at United States Steel Corp., and most recently was vice president of transparency & compliance and general counsel at International Seafood Sustainability Foundation.
John R. Tomayko, Ph.D., president and CEO of The Tomayko Group LLC, a collection of integrated health care companies, worked at Point Park from 1981 to 1986, including holding the position of director of recreation and health fitness. His academic experience includes adjunct professor and teaching fellow roles at the University of Pittsburgh. He served as a University trustee from 2006 through 2016.
More About: Downtown Pittsburgh, alumni