more news
Criminal Justice Club and Alpha Phi Sigma Honor Society Fundraise for Homestead Borough Police Department
Friday, May 25, 2018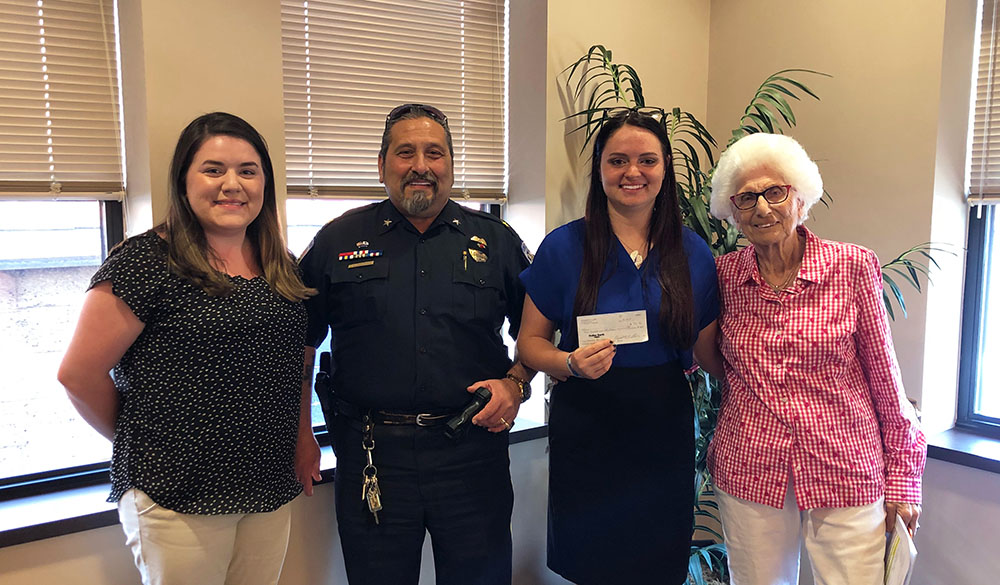 Point Park University students with Homestead Borough Police Chief Jeffrey Desimone and Mayor Betty Esper
After researching Pittsburgh area police departments in need of additional funds, criminal justice major Elizabeth "Lizzie" Geis, now a 2018 graduate, discovered that Homestead Borough Police Department fit the bill.
"Since many Point Park students go to The Waterfront in Homestead on the weekends, we figured this would be a nice way to say thank you to the police officers there for keeping us safe," said Geis, immediate past president of the Alpha Phi Sigma Criminal Justice National Honor Society.  
Through a bake sale on campus, a Peppi's hoagie sale and a paint night at Paint Monkey at The Waterfront, the Criminal Justice Club and the Alpha Phi Sigma Criminal Justice Honor Society raised $750 for the police department.
The students presented the check May 17 to the Homestead Borough Police Department with the police chief, mayor, counsel members and community members in attendance.
"I am so proud of the students for all of their work on the three fundraisers and for giving back to the community," said Richard Linzer, J.D., associate professor of criminal justice and director of the criminal justice administration graduate program.
The funds raised by the students will go toward additional police training and new equipment for the department.
Learn More
Point Park University offers a Bachelor of Science degree in criminal justice and a Master of Science degree in criminal justice administration.
Request information, schedule a campus visit or apply online.
More About: School of Arts and Sciences, faculty, M.S. in criminal justice administration, criminal justice