more news
Literary Arts and Social Justice Studies Department Presents Panel on Careers in Writing
Thursday, April 4, 2019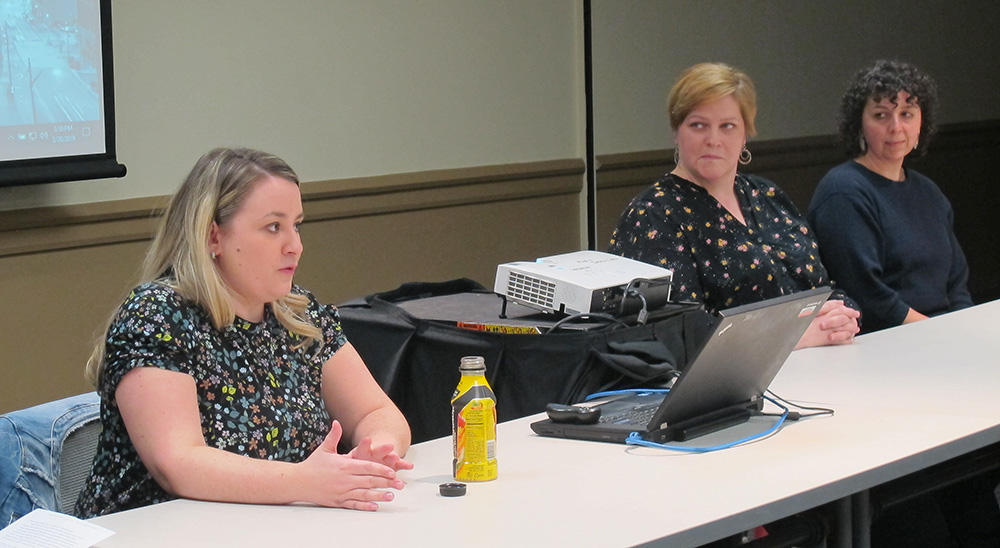 L to R: Paige Mastrippolito '17, Maureen Passmore and Mariana Padias
The Department of Literary Arts and Social Justice  at Point Park University hosted a career panel session March 28 featuring creative writing alumna Paige Mastrippolito '17, as well as writing professionals Maureen Passmore and Mariana Padias. 
Mastrippolito is a grant writer and planner for the Fayette County Community Action Agency, while Passmore works as a writer and project manager for the University of Pittsburgh and Padias as an assistant director of organizing for the United Steelworkers.
"This panel was a great opportunity to show our students some of the versatile career paths in writing they can choose," said Barbara Barrow, Ph.D., assistant professor of English and coordinator of the literature program at Point Park.
Mastrippolito told the students the creative writing program at Point Park taught her to be an "adaptable writer."
"The program offers a variety of writing courses and it teaches you to effectively take and give critiques," she explained.
Senior English major Samantha Fencil enjoyed learning about the array of professions the panelists worked in throughout their careers.
"It was really reassuring to see that my options are not limited with an English degree, as some stereotypes suggest. One of the panelists suggested that we take our time after graduating before making the next move to ensure that we are being true to ourselves and making the right decisions," said Fencil, a graduate of Mount Pleasant Area High School in Mount Pleasant, Pa.
Fencil added: "I appreciate Point Park's English program because it has taught me so much. I didn't even think I liked English in high school (ironic, huh?), but studying here at Point Park has helped me develop so many skills toward my craft. I am graduating confident that I can excel regardless of what I pursue."
More About: English, School of Arts and Sciences, Department of Literary Arts, student workshop, alumni, creative writing, social justice studies, Mount Pleasant Area High School