more news
Ocean City Police Department Officers Meet with Criminal Justice Classes to Discuss Summer Opportunities
Tuesday, October 23, 2018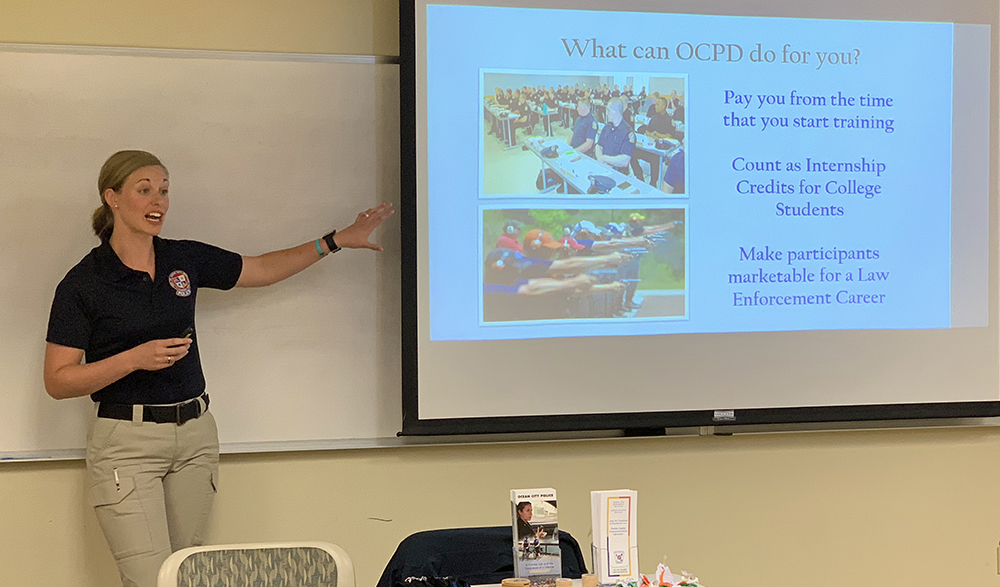 "This would by far be the best work experience I could have this early in my college career. It would give me experience in some of the exact positions I want to pursue after graduation."
Tyler Thomas '22, criminal justice major
Members of the Ocean City Police Department traveled more than six hours to meet with students in criminal justice classes, taught by Edward Strimlan, M.D., and Richard Linzer, J.D., and discuss opportunities to gain hands-on career experience in the field with the OCPD department this summer. 
"This visit would not have happened without the efforts of Dr. Strimlan. Seasonal employment with the Ocean City Police Department as a police officer, public safety aide or communications officer are wonderful opportunities for a trial run in a career. There are not many chances to test out your chosen profession before making a final commitment. These positions offer great pay for summer work in a friendly environment," Linzer explained. 
"Additionally, the OCPD provides a job fair for their summer employees and the positions are great resume entries. We are fortunate that the OCPD has chosen to recruit on our campus," he added.
Last summer, senior forensic science majors Jordan Cook-Henry, Gillian Stinson and Mindy Vivio gained valuable experience working for the Ocean City Police Department.
Junior criminal justice major Jared Ross is "completely considering" a seasonal officer position with the Ocean City Police Department.
"The position seems very exciting and rewarding. It would give me real-world experience, and make it easier to decide what I want to pursue in the law enforcement field," explained Ross, who graduated from Greensburg Salem High School in Greensburg, Pa.
"As the officers said, there are not many jobs out there that allow you to test them out before committing. The seasonal positions have great benefits for a summer job as well!" Ross added.
Justin Stengel, a sophomore criminal justice major from Carlynton Junior-Senior High School in Carnegie, Pa., said: "The Ocean City Police Department's offer is unique. It definitely feels like a special organization to be a part of and something I am considering."
Tyler Thomas, a freshman criminal justice major from Central Dauphin High School in Harrisburg, Pa., described a position with the OCPD as a valuable opportunity to gain experience early on his college career.
Thomas explained: "I learned a lot about how police officers go about their shifts and how they use every single position to make sure they are working efficiently as a department. I am absolutely considering a position with them. This would by far be the best work experience I could have this early in my college career. It would give me experience in some of the exact positions I want to pursue after graduation."
More About: criminal justice, internships, Carlynton Junior-Senior High School, School of Arts and Sciences, Greensburg Salem High School