more news
Funeral Service Major from South Carolina Volunteering for City of Pittsburgh's Office of Nighttime Economy
Student Profile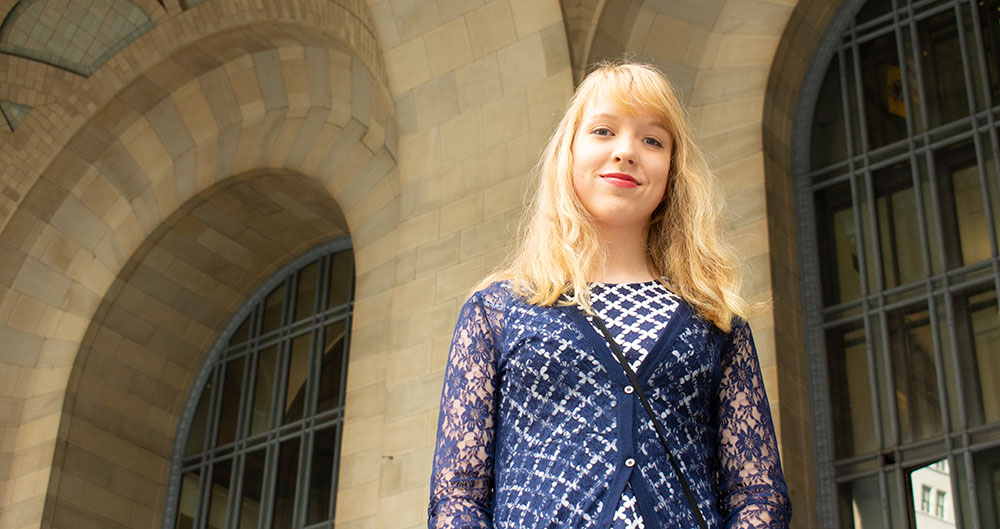 Meet Alexa Lake
Job Title & Employer

Major

Funeral Service

Minor

Pre-medical program

Graduation

April 2022

College Activities

Member of the Pre-Medical Student Association and Senator for United Student Government (representing the School of Arts and Sciences)

Scholarships

Presidential

Hometown

Saint Matthews, S.C.

High School

Midlands Middle College

Now Living In

Pittsburgh, Pa.

Dream Job

Internist physician

Hobbies & Interests

Retro computers and video games, reading sci-fi novels and baking pastries
"Possessing a comfortable confidence and earnest curiosity, Alexa is game for any big challenge. The variety of experiences afforded to her at Point Park University provide her with the opportunity to explore and test interests as potential career paths. Serving in student government has given her perspective in balancing issues important to her with those of her fellow students, and prepared her to intern with Pittsburgh's municipal government. Alexa enjoys discovery and learning what's beyond the surface of issues. Our office is grateful for her analytical and problem-solving abilities as she tackles the development of tools we will use to communicate with food, beverage and entertainment businesses."
Allison Harnden, nighttime economy manager, City of Pittsburgh
"Everybody knows the South is warm and friendly, but the people in Point Park and Pittsburgh have made me feel more welcome than I've felt any time at home."
Alexa Lake
As a native of South Carolina, what factors made you choose Point Park University?
Working at a funeral home a year prior to starting college, I was looking into mortuary science colleges. Most funeral directors in my area earned an associate's degree from a college in Atlanta. However, the norm wasn't right for me; I wanted to experience a different region and get a bachelor's degree in funeral service to advance further in my career. Of the limited selection, Point Park University was the only one standing a chance. Everybody knows the South is warm and friendly, but the people in Point Park and Pittsburgh have made me feel more welcome than I've felt any time at home.
What inspired you to pursue a career in funeral service?
Of the many careers which help people in their times of need, funeral directors really take the brunt of families' grief. I played a similar role working as a funeral assistant back home. Though we don't see the families through the completion of their healing, we can start the process off on the right foot by making their loved one's final ceremony as stress free and pleasant as possible. 
Also, I'm fascinated by the human body. Being behind the "employees only" sign in a funeral home puts us in our area of expertise. Seeing and helping the embalmers and funeral directors embalm, clean, dress and casket people from all walks of life not only piqued my interest in anatomy, but it puts into perspective what's really important. I am honored to care for these people on behalf of their families.
Tell us about how you became a volunteer for the City of Pittsburgh Nighttime Economy.
When Allison Harnden, manager of the City of Pittsburgh's Office of Nighttime Economy, spoke in my marketing class with Dr. Dorene Ciletti, she mentioned internship and volunteering opportunities available. Though marketing isn't my career goal, I wanted to experience working in a local government environment while I had the opportunity. Luckily, Allison's flexible offer fit well with me. I've worked on solving one of her office's (and much of local government's) problems: sharing information.
In the past few weeks, while working in the City County Building, I've started making a database of nighttime venues gathered from data taken from other offices. I work best solving a problem and have learned a lot recently about the function of government and how to organize data meaningfully.
Describe your experiences so far living and learning in Pittsburgh.
The convenience of living on campus has really paid off this first semester! So many opportunities are available in just a few blocks' radius, including my current volunteer position. Another plus is the breathtaking cityscape from Mt. Washington at night.
What are your career goals and how do you think Point Park will help you reach them?
Not only is Point Park's funeral service program very convenient, especially considering the diverse community surrounding where we take our classes, but my peers have been more supportive than I could have hoped for. United Student Government, the Pre-Med Student Association and my floormates are truly great.
Academically, I'm very thankful for the pre-medical and pre-health program here. Though being a funeral director is my immediate goal, medical school is still on my mind for my future, and I'm glad to have advisors help me get prerequisites while getting to tour medical schools through Point Park's student association.
More About: Downtown Pittsburgh, funeral service, natural sciences, premed, School of Arts and Sciences, United Student Government