more news
Allderdice High School Students Process Mock Death Scenes at Point Park's CSI House
Thursday, November 5, 2015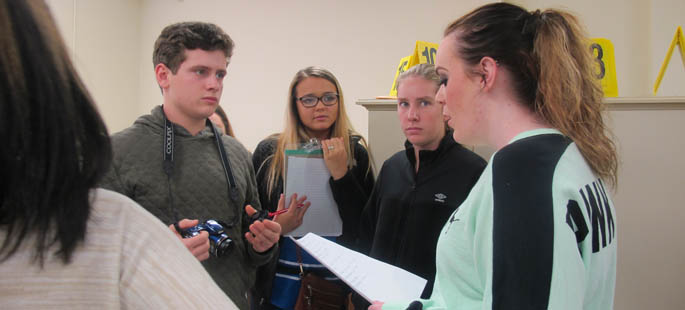 Students from Pittsburgh Taylor Allderdice High School took a field trip to Point Park's CSI House Oct. 27 to gain some hands-on crime scene investigation experience, see science in action and explore potential career paths in forensic science.
The high school students were given three different death scenes to process - a homicide in the living room, a suicide in the study room and an accidental asphyxiation in the bedroom - set up by Point Park students taking Ethics in Forensic Sciences with Ed Strimlan, M.D., assistant professor and coordinator of the forensic science program.
Before the students began processing the crime scenes, Strimlan gave them an overview on forensic science and the variety of job opportunities in the field. He then taught the students how to properly take photos at a crime scene.
"Every crime scene must start with photography. Then you have to carefully look at the cascade of events that occurred. Remember, our number one job is to find out why a person died," explained Strimlan.
"Forensic science is an intriguing field," remarked Zachary Frisco, a junior at Taylor Allderdice. "I enjoyed learning how to photograph the crime scenes."
"I'm interested in the chemistry part of forensic science," said Brendt Hall, also a junior at Taylor Allderdice. "The forensic science field requires major attention to detail. It's the minute details that can solve crimes."
Strimlan was impressed with the high school group's attentiveness to detail. "They made a conscious effort not to destroy evidence," he said.
Wendelyn Piquette, a physics teacher at Taylor Allderdice and M.A. in curriculum and instruction graduate student at Point Park, said her students were captivated by Strimlan's lecture and really enjoyed trying to solve the mock crime scenes.
"When we got back to the high school, the students were explaining in great detail to their classmates each step they took in the CSI House," said Piquette. "This is an excellent example of the best type of learning to be found: Real-world style problems that need to be solved using trial and error."
Piquette added: "There's a huge difference between reading about how to do something and actually practicing it in real life."
More About: Pittsburgh Taylor Allderdice High School, high school programs, forensic science, CSI house, Downtown Pittsburgh