more news
Alumna Meghan Sexton is Assistant Deputy Director of Allegheny County Public Works' Roadway and Geotechnical Divisions
Alumni Profile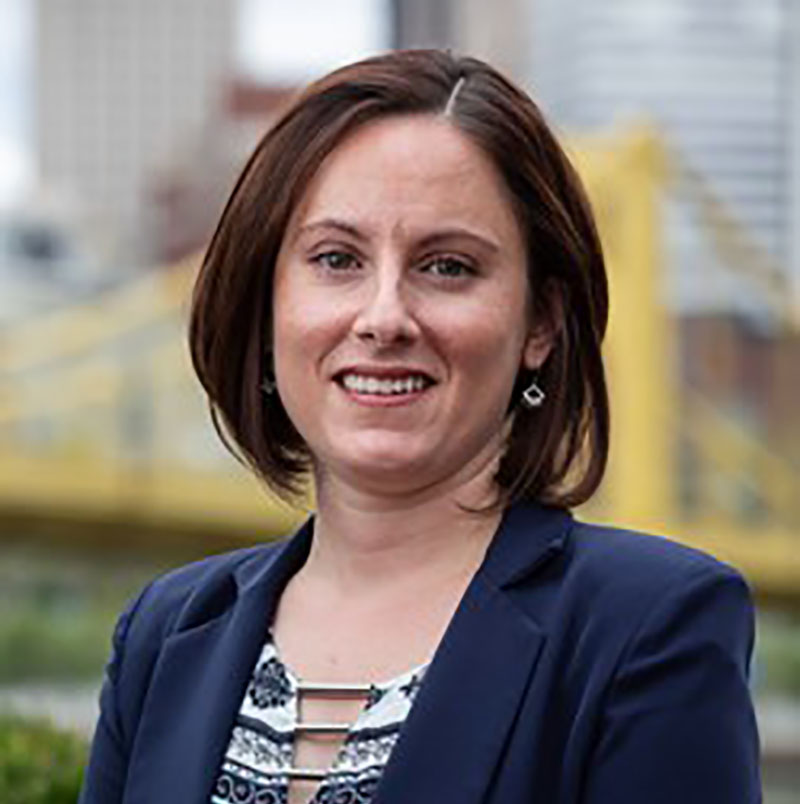 Meet Meghan Sexton '06 '10
Job Title & Employer

Assistant Deputy Director, Roadway and Geotechnical , Allegheny County Department of Public Works

Majors

Civil Engineering Technology, Engineering Management-M.S.

Hometown

Brookline, Pa.; Brashear High School

Now Living In

Brookline, Pa.

Hobbies & Interests

Exploring the Allegheny County Trail Network, reading and cooking
"I'm sure that Meghan's experience at Point Park helped to develop the critical thinking and problem-solving skills that have made her such an excellent engineer. She is a tremendous asset to our organization and an alumna that Point Park can be proud of."
Jason Molinero, P.E., Deputy Director, Engineering, Allegheny County Public Works
"I had such a great experience at Point Park for my undergrad, choosing Point Park for my master's degree was an easy choice."
Meghan Sexton '06 '10
Why did you choose Point Park for your bachelor's and master's degrees?
I earned an associate degree from CCAC, which allowed me to obtain a full-time CAD technician position with a local engineering firm. Once working, I realized that civil engineering was something I wanted to pursue. After an extensive search, I decided on Point Park for multiple reasons. Point Park offered small class sizes, which allowed more one-on-one instruction. Point Park also had evening and weekend classes, which allowed me to work full time while continuing my education. Finally, when John Kudlac, Ph.D., sat down with me to discuss transfer credits, I realized Point Park was interested in providing a quality education. Dr. Kudlac took the effort to go through each course I took and compared the course content against what Point Park offered before accepting the credits. 
I had such a great experience at Point Park for my undergrad, choosing Point Park for my master's degree was an easy choice.   
What does your role at Allegheny County Public Works entail?
I help oversee roadway, traffic and geotechnical engineering and design projects. I also assist with the county's Municipal Separate Storm Sewer Systems (MS4) Program, highway occupancy permits, Pennsylvania One Call, right-of-way acquisitions, in-house maintenance requests, as well as project planning and budget coordination.
How did Point Park's engineering programs prepare you for your career?
Many of my civil engineering classes focused on learning how you analyze the problem and various methods of calculations, along with providing the correct answer. Many classes required me to compile a portfolio with strict guidelines to follow. Homework assignments and test questions required citing sources for equations and values used. This allowed for the professor to check your answers and confirm you were using the correct manuals and books. The engineering management classes focused on contracts, engineering law, technical writing, personnel management, proposals and budget execution. 
Currently, my job requires me to follow strict policies and procedures for documentation purposes and record keeping.  Engineering designs must be checked, property acquired for right-of-way, project manuals prepared, projects advertised for bid, contracts executed, budget oversight and general management of the project team. The lessons I learned at Point Park are implemented daily in my current position.
What makes Point Park's engineering programs stand out from that of other universities?
The small class sizes, flexible class offerings and the professors. The professors really care that the student is understanding the concepts. Many of the professors worked as engineers and explain the real-life implications of what you are being taught and how to apply it in the workplace. Most of the students were employed full-time, and attending office hours was not always feasible. I had professors who would stay after class to help me understand a concept. This is a big deal since some classes could go as late as 10 p.m. Professors were always available via email or phone call to answer questions all hours of the day. 
What career advice do you have for current students seeking a career in this field?
Engineering is problem solving, and every project is different. Engineers are solving issues that have a direct effect on individuals lives. Engineering is not easy. Be prepared to work hard, but the end result is worth it.      
Connect with Meghan Sexton '06 '10
More About: M.S. in engineering management, success story, Pittsburgh, civil engineering technology, alumni, transfer, faculty, School of Arts and Sciences