more news
Alumni Profile: Eric Probola, Global Cultural Studies
Wednesday, August 31, 2011
Meet Eric Probola
Job title and employer: Administrative Assistant to Community Planning, Jewish Federation of Greater Pittsburgh
Degree earned: Bachelor of Arts in global cultural studies and a minor in political science
Graduation year: 2010
Hometown and current residence: Pittsburgh, PA
What inspired you to study global cultural studies?
I originally transferred to Point Park to pursue journalism but after one semester I realized I wanted to take classes that dealt more with the world. My goal was to work globally or with human rights groups so a career counselor at Point Park suggested majoring in global cultural studies.
How did you land your current job?
I actually found the job on Craigslist. The staff at the Jewish Federation of Greater Pittsburgh liked that I had a degree in global cultural studies since they do a lot of work overseas. My work-study job with Point Park's Office of International Student Services also played a role in helping me to land the job.
What are some of your key responsibilities?
I help plan events for the Pittsburgh Jewish community, work with our partner communities abroad and assist in the management of the organization's overseas funding program.
What do you enjoy about your job?
I really feel enriched working for an organization whose sole mission is to help people. Also, my co-workers are incredibly nice, and I love experiencing the atmosphere of working in Oakland.
What made you transfer to Point Park?
I'm a city guy and loved being in Downtown Pittsburgh near places like the Cultural District. Overall, Point Park offers a lot both academically and socially.
How would you describe the professors in the Department of Humanities and Human Sciences?
They are very dedicated, knowledgeable and always open to meeting with you and going the extra distance. I had professors who really challenged me and took the time to give me real feedback, which definitely prepared me for my current job. The professors are also a great intellectual resource.
What are some of your future career goals?
I would like to continue working in the nonprofit sector. I have developed a great passion for politics and policy and how those things affect the world around us. I'd like to get involved in some capacity in those areas. But I don't want to be a politician; I'd rather work behind-the-scenes developing and analyzing policy so the right laws are put in place and the world can be made a better place.
What advice do you have for current students majoring in global cultural studies?
College is what you make of it. Apply what you are learning to life and get involved outside of the classroom. In the global cultural studies major, you learn a variety of skills including effective writing and critical thinking. These are skills that can apply to a lot of jobs. The students in the global cultural studies program are passionate about learning and are some of the smartest individuals I've met. The global cultural studies major pries your eyes open. Don't fight it; instead, look at the world with new eyes and critically examine it. One of my favorite quotes is, "The unexamined life is not worth living."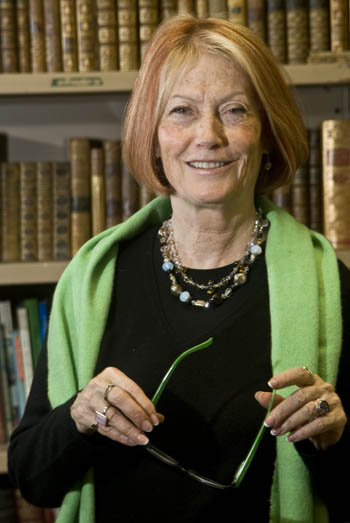 Channa Newman, Ph.D.,
professor of global cultural
studies

Professor Channa Newman's comments on Eric:
"Eric was an excellent student and what I appreciated about him most was that he in turn appreciated the challenges presented by my courses such as 'Wealthy White Males.' He saw the benefit in asking questions and in examining and analyzing issues rather than following conventional conclusions. That kind of approach is mind opening and prepares students to tackle anything in a rational way."
What makes the global cultural studies program unique?
"The global cultural studies program at Point Park University is unique because unlike most other programs that have the word 'global' in their titles, it is not aligned with a prescribed agenda," says Newman. "Global cultural studies majors at Point Park examine all issues from all perspectives: historical, cultural, psychological and economical. It is an authentically multidisciplinary curriculum. Graduates of the program are competent in all these areas and have a broad understanding of the complexity of global issues, enabling them to excel in any profession."