more news
History Major Ana Bellamy '23 Reflects on Archivist Internships and Passion for the Field
Student Profile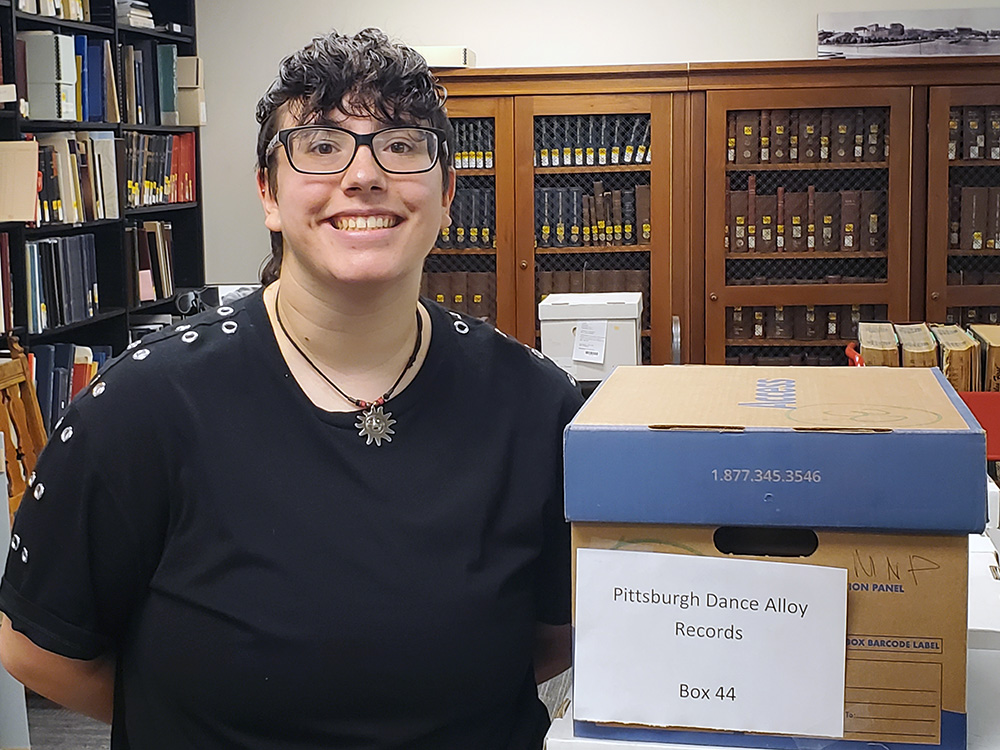 Meet Ana Bellamy '23
Job Title & Employer

Assistant Archivist Intern, University of Pittsburgh Archives Center

Major

History

College Activities

Gender and Sexuality Spectrum Club (GSSA) and the Latinx Student Association

Hometown

Glassport, Pa.

High School

South Allegheny High School

Dream Job

My ultimate dream job is to work in the Rock and Roll Hall of Fame or the Andy Warhol Museum as an archivist. I would also love to work with any collection related to the LGBT+ community, the Latinx community, post-1950s music history and/or horror movies and literature.

Hobbies & Interests

Playing electric bass guitar and guitar; advocating for reproductive rights, LGBT+ rights and mental health awareness and going to concerts. I've attended 62 concerts in the last 10 years.
"Point Park's faculty and staff always look out for you and make sure that you are on the right track. The professors I have had are incredibly kind and understanding. The degree programs offer a wide range of classes. I feel safe and comfortable here, and the atmosphere is inviting and fun."
Ana Bellamy '23
What drew you to Point Park University's history degree program?
The coursework, small class sizes and the professors drew me to the program. I heard amazing stories about the history professors, so I was excited to take their classes way before I was admitted. I was also interested in Point Park because of the access to inner-city internships and networking opportunities.
Once I chose Point Park to further my education, I joined the Pathways to Professional Career Program (PPCP), a joint program between Point Park and the Community College of Allegheny County (CCAC) that focuses on career readiness. My former mentor at CCAC, Cara Fulton, helped prepare me for the workforce and internships and helped me perfect my resume. My Point Park mentor, Michael Clarke, has always helped me when I've had questions regarding internships or career readiness.
My internship at the Heinz History Center was my first real experience working with collections in an archive. I worked with collections from local record stores, LGBT organizations and art galleries. For each collection, I created a machine-readable cataloging (MARC) record and a finding aid on ArchivesSpace. A person can access these on the museum's website, view what's in each collection and then request to view these items in the reading room. As I moved onto the bigger collections, I re-housed the materials into acid-free folders and boxes so that the materials would be protected.
My current internship at the University of Pittsburgh Archives Center is a continuation of the work I did during a work-study at KST's Alloy Studios, during which I organized and re-housed materials relating to the Pittsburgh Dance Alloy. Soon I will make a processing guide and finding aid for the entire collection to work toward the ultimate goal of making it publicly accessible. I am honored to help the former founders and employees of the Pittsburgh Dance Alloy with this project so that everyone can remember how incredibly important their organization was to the Pittsburgh arts scene.
Where did your passion for archival work originate?
I have two stories to share that inspired my career path.
I was researching careers for my senior project in high school and knew I wanted to work at the Rock and Roll Hall of Fame. I found an archivist position under their website's hiring tab, which piqued my curiosity. I secured a 1-day job shadow with Dominique Luster and Charlene Foggie-Barnett, community archivists for the Teenie Harris Archive at the Carnegie Museum of Art. They taught me the importance of storytelling, the preservation of history and the dire need for history to be accessible to the public. I learned what an archivist does in a day and how it changes depending on the type of archive and location.
Before my grandma passed away, I had the opportunity to go through her pictures and help identify the people in them. She told me about the history of her family, her hometown of McKeesport and her life story. She never really told me or my sisters these memories when we were growing up, so it was exciting! I learned first-hand the importance of sharing these stories so that I can tell others how awesome she really was. 
I love learning and organizing, and this career is a perfect fit. I am passionate about the preservation of history, especially if the history belongs to communities deemed minorities in society, including women, people of color, the Latinx community and the LGBT+ community. I'm also passionate about preserving the history of performing and media arts and anything music-related, post-1950s. I want to help fill the gaps within history and share stories that are worth remembering.
Tell us about your favorite faculty members and courses.
I took Public Speaking with Professor Amy Kier my first semester, and that class helped immensely with my self-confidence and boosted my comfort with public speaking. I cannot thank Professor Kier enough for what she taught me. History of American Music with Jehnie Burns, Ph.D., is an awesome class. Being a musician and an avid concertgoer, I am having a blast learning the history behind my favorite genres and artists. I am taking the History of Pittsburgh and the History of Hitler and Nazism class with Professor Ed Meena, M.Ed., M.A., which are two very different classes, but they have been extremely helpful in my goal to learn more about Pittsburgh and world history. Professor Meena is full of stories, and it is always fun to hear what Pittsburgh was like back when he was a student at Point Park.  
Why would you recommend Point Park to a prospective student?
Point Park's faculty and staff always look out for you and make sure that you are on the right track. The professors I have had are incredibly kind and understanding. The degree programs offer a wide range of classes. I feel safe and comfortable here, and the atmosphere is inviting and fun.  
Ana's pronouns are they/them/theirs.
Connect with Ana Bellamy '23
More About: internships, faculty, South Allegheny High School, success story, School of Arts and Sciences, history