more news
Award-Winning Author and Poet Leads Point Park Students in Poetry Writing Exercises
Friday, December 13, 2013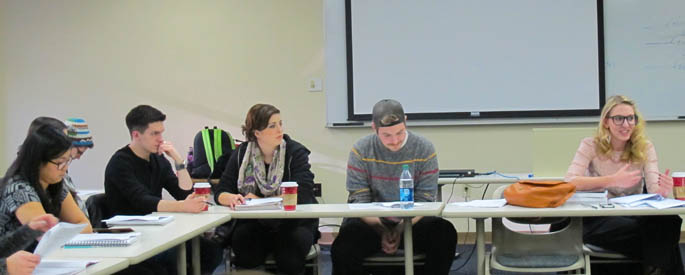 Award-winning author and poet Karyna McGlynn spent two days on campus as the fall 2013 featured speaker of the Point Park University Writers' Series.
On Nov. 19, McGlynn read from a selection of her works at a special evening event on campus open to the public. The following day, she taught a master class exclusively for Point Park students.
"The evening event was amazing. Karyna is a huge inspiration for me because she's a young, successful poet. Her poems are awesome and I like that she talks to everyone with a youthful twist," said Myriah Castillo, a senior English/creative writing major.
In her master class, McGlynn led students in a series of lyrical poetry writing exercises, challenging them to deepen their writing skills and access the subconscious area of their brains.
"Don't write what you think people want to hear. Get down to the grit," she remarked.
Students then read aloud drafts of the poems they wrote and received feedback from McGlynn. She also shared advice with students on strategies for researching where to send poems to and how to know when a piece is ready to be published.
"The writing exercises were beneficial because we got to see a process that a published poet likes to use while writing material," explained Zach Zacchero, a senior multimedia major with a minor in creative writing.
The final portion of the master class was spent in a question and answer period with McGlynn, in which she talked about her passion for poetry, her career journey to becoming a published writer and the importance of poem titles.

"Give your titles more thought. Titles give your poem what it needs," advised McGlynn.
"It was great to hear her talk about getting work published and she gave us advice to do so. She explained resources to find publishers that I had never heard or thought of before," commented Haleigh Kopinski, a junior English/creative writing major with a minor in psychology.
The Point Park Writers' Series presents public lectures and readings throughout the academic year. Previous guest lecturers have included poets Eduardo Corral, Sandra Beasley and Mary Biddinger and writers Ivan Rodden, Brigid Pasulka and David McGlynn.
More About: student workshop, creative writing, English, Department of Humanities and Human Sciences, Point Park Writers Series