more news
Biology Grad Sets Sights on Becoming a Doctor
Wednesday, July 14, 2010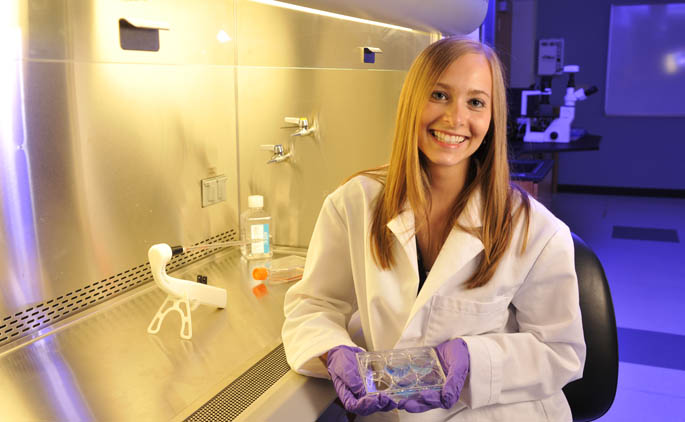 Michelle Guaragno graduated with a bachelor's degree in biology in May 2010 and will begin graduate
studies toward her goal of becoming a doctor
From the time Michelle Guaragno was a child, she knew she had a passion for medicine and a desire to help others.
This May she moved one step closer to turning those dreams into a career when she graduated from Point Park with a Bachelor of Science degree in biological sciences and an impressive 3.98 GPA.
Guaragno, from McKees Rocks, Pa., wanted to complete her undergraduate studies quickly so that she could continue her education on the graduate level. She took one of the most difficult course schedules possible and graduated a year early, all the while making top grades.
In recognition of her academic achievements, Guaragno was awarded the Natural Sciences and Engineering Technology Graduating Senior Award and the Alumni Association Outstanding Graduating Senior Award for the School of Arts and Sciences. In addition, she was chosen to give the graduating senior speech at commencement.
Guaragno said she feels well prepared by her Point Park education to continue on a tough academic path.
"I loved the science program at Point Park. I couldn't have asked for better professors," she said. "I liked going to a smaller school because I have been able to develop professional relationships with the faculty that I don't feel I would have been able to do at a larger school. The faculty members have a passion for education and their passion permeated to me."
This fall, she will attend Duquesne University to pursue a master's degree in science and biotechnology. She's hoping to finish in one year, then continue on to medical school in pursuit of a combined M.D./Ph.D.
"(Michelle) has a first class mind and the maturity and motivation to use it. Her dedication to academic excellence is unrivaled in my almost 30 years of college teaching," said chemistry Prof. Mark Farrell, who is chair of Department of Natural Sciences and Engineering Technology. Farrell nominated Guaragno for the Alumni Association award.
"Michelle has made every effort at Point Park to prepare herself for graduate and/or medical school. She has impressed our entire faculty and staff as well as the other students with her determination and resolve to earn advanced degrees and become a physician."
To help her gain more research experience in preparation for graduate school, Guaragno is working with Farrell and Prof. Laura Frost this summer on a directed research project involving the synthesis of functionalized fullerenes, a type of nanoparticle commonly referred to as "bucky balls," as a support for a biologically active reagent called propanil. If successful, their research has possible medical applications as a targeted drug delivery system.
"I love to learn," said Guaragno of her Point Park experience and her ambitious career plans. "If you have the determination and you are willing to work and give 100 percent, I think anything is possible."