more news
Biology Program Provides Students Personalized Attention From Faculty — and Access to Bioinformatics, Cellular/Molecular, Environmental and Organismal Careers
"Each concentration in our biological sciences major offers career-specific coursework, laboratories and internships, which prepare students for securing jobs right out of school or continuing their education in graduate/professional studies."
Laura Frost, Ph.D., professor of biology, and Matthew Opdyke, Ph.D., professor of environmental sciences
Why does biological sciences remain a strong career field during challenging times like the current COVID-19 pandemic?
Understanding the world from a biologist's perspective enhances our ability to negotiate this sort of challenge. Biologists (especially those who study microorganisms and viruses), environmental health scientists and epidemiologists are the scientists who study infectious diseases and how they spread.  
This pandemic reinforces to all of us the need to understand the biology of the world around us and how different species, microorganisms, and yes, even viruses, relate to one another and interact. If anything, the pandemic has provided greater evidence for the need to train more scientists.
Learn more: "The links between COVID-19, wildlife trade and destruction of nature with John Vidal."
Tell us about this major's four concentration areas.
We offer concentrations in bioinformatics, cellular/molecular, environmental and organismal biology. 
Each concentration in our biological sciences major offers career-specific coursework, laboratories and internships, which prepare students for securing jobs right out of school or continuing their education in graduate/professional studies.
Our bioinformatics concentration is designed for students looking to enter the field of biotechnology/bioinformatics. It draws upon courses which enhance mathematical reasoning, computer programming and problem solving skills and delivers deeper content in biotechnology-related areas of drug development and cell biology. 

Our cellular/molecular concentration prepares students for careers in cellular biology, microbiology, molecular biology and genetics. This concentration allows students to develop skills and experience needed to secure jobs where a biologisit might work in a laboratory carrying out research, process control and quality control.

Our environmental concentration is designed for students interested in an environmental career in consulting, government and nonprofit agencies. 

It is an interdisciplinary field, which focuses on investigating natural systems to understand the complexity of the environment and work for solutions to environmental problems.

Our organismal concentration is heavy on anatomy and physiology, preparing students to succeed in post-graduate paths in the medical and other health-related fields. 

It endeavors to expose students to the coursework and laboratory experiences that will enable them to successfully matriculate into medical schools, veterinary medicine, accelerated nursing and a host of other related fields.
What should prospective students and their parents know about being a biology major at Point Park?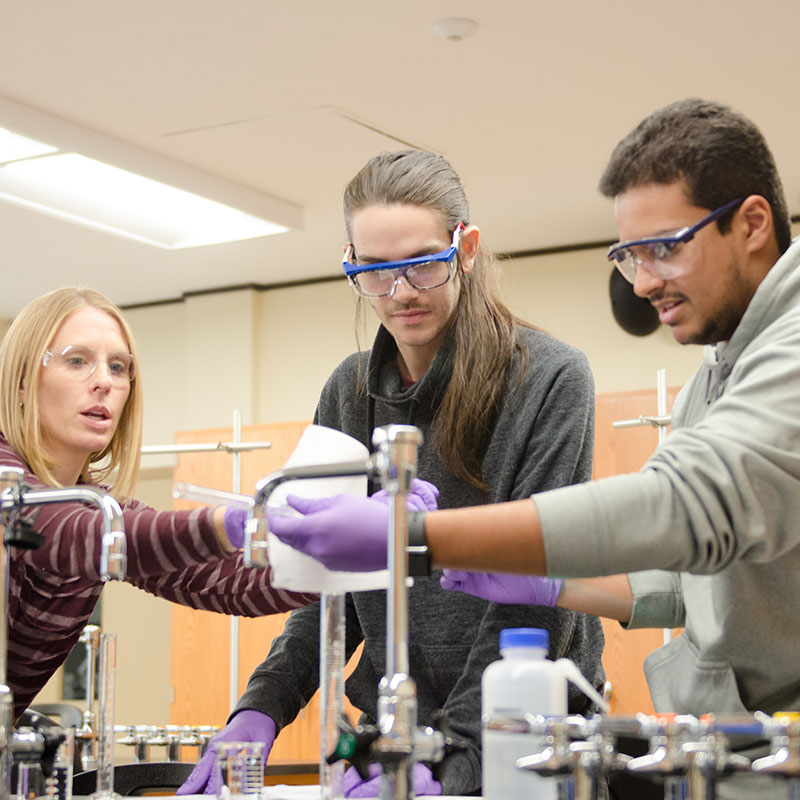 Biology majors at Point Park come with different backgrounds and goals. Some students want to go to medical school, while others want to work with animals or solve environment problems. One of the many great things about our program is that we can suit them all.
We offer concentration options and great advisors who can help students sort out what path is best for them. We help our students secure internships to allow them to explore a variety of career paths and our courses expose them to all levels of laboratory experiences. Also, we emphasize critical thinking and problem solving in our courses so no matter where our graduates end up, they are prepared to make an immediate impact.  
In addition to our four concentrations in the biology major, we offer the pre-medical and health-related professions program. This program builds upon the University's biology curriculum to assist students across all majors at Point Park University who are interested in pursuing post-graduate studies in the medical field and other related health professions.
While attending Point Park, our students have the opportunity to network with others by participating in clubs like the Pre-Medical Student Association and being selected for the Honors Program. With our campus centrally located in Downtown Pittsburgh, it offers connections with local and regional nonprofits and other organizations. Also, our dedicated faculty advise and support our students in many ways, providing individualized assistance and prioritizing student success.
Where can students and graduates of your program land internships and jobs? 
Students who attend Point Park will be amazed by the career opportunities in the Pittsburgh region. The Pittsburgh metro area's largest employers include many hospitals and health care systems, which is only the tip of the iceberg when it comes to biology-related jobs and internship opportunities.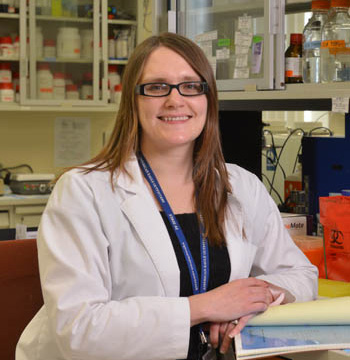 Erin Faight '15, research assistant,
Allegheny Health Network
Examples of some of the opportunities awaiting our students include:
Bioinformatics:
Helomics Corporation (computational biologist)
University of Pittsburgh (research assistant)
Cellular/Molecular:
Allegheny County Health Department (laboratory internship)
Carnegie Science Center 
Mercy Hospital
Quest Diagnostics
Internships with various chiropractors, dentists and medical offices
Allegheny Health Network (microbiology laboratory associate)
Lighthouse Lab Services (molecular technologist)
University of Pittsburgh Medical Center (child life internship)
Environmental: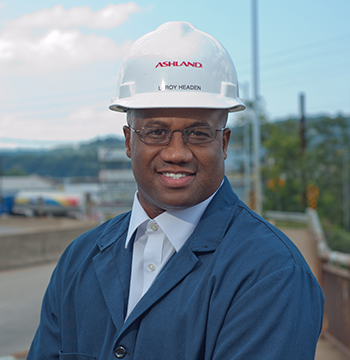 Leroy Headen '13, 18, process research
specialist, Covestro
Allegheny Land Trust (land stewardship internship)
Civil and Environmental Consultants, Inc. (environmental inspector)
Pennsylvania Department of Environmental Protection (water pollution biologist)
City of Pittsburgh Department of Parks and Recreation (park ranger)
Organismal:
Banfield Pet Hospital (veterinary assistant)
Carnegie Museum of Natural History (education internship)
Humane Animal Rescue (wildlife clinic technician)
National Aviary (animal husbandry internship)
How will Point Park make students career-ready in biological sciences?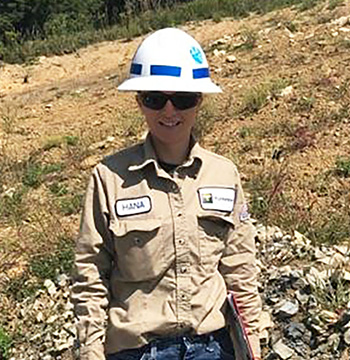 Hana Rydl '15, '16, environmental
inspector supervisor, TruHorizon
Environmental Solutions
Faculty at Point Park bring to their classrooms a wealth of experience, including education rooted in the biological sciences, nationally-recognized research and active networking contacts in the professional community. Every course is designed in a way to prepare students for careers in biology, while at the same time exposing them to the challenges they will face during their careers.
Each of our concentrations in the biological sciences program has a dedicated, full-time faculty member to ensure students receive specialized training. Advanced courses such as Bioinformatics, Immunology, Applied Environmental Science and Comparative Vertebrate Anatomy focus on teaching skills necessary for jobs upon graduating.
Our small class sizes, rigorous courses and committed faculty are what make our biological sciences program successful at placing graduates in their careers. Faculty not only strive to make students career-ready, but to prepare them for a lifetime of learning.
More About: faculty, premed, School of Arts and Sciences, Honors Program, natural sciences, biology