more news
Chaos Topic of Electrical Engineering Technology Professor's Lecture
Friday, April 11, 2014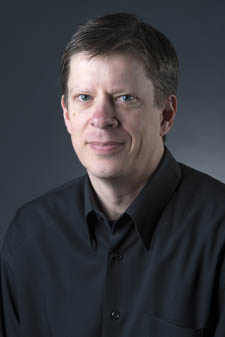 Gregg Johnson, Ph.D.

Chaos is the subject of the 2014 Finkelhor Lecture on Wednesday, April 16 at 3 p.m. in the Lawrence Hall ballroom.
Presented by Gregg Johnson, Ph.D., associate professor of electrical engineering technology, the Finkelhor Lecture is the featured event in the Seventh Annual Faculty Recognition Exhibition, which celebrates faculty accomplishments from the past year.
In his lecture, Johnson will explore how systems with seemingly identical starting conditions lead to remarkably different outcomes and how these and other real-world systems exhibit the earmarks of a phenomenon called "chaos."

According to Johnson, "We will explore a classic example of a chaotic system that appears quite benign yet displays all of the rich, underlying complexity of chaotic motion."

Some of the areas of Johnson's lecture were developed during communications research he did while at the Naval Research Lab in Washington, D.C.

The Finkelhor Lecture is free and open to the public. To R.S.V.P., email academicaffairs@pointpark.edu.
Learn More
Check out Point Park's undergraduate and graduate majors in the Department of Natural Sciences and Engineering Technology and view a faculty web profile on Johnson.
More About: faculty presentation, electrical engineering technology, faculty