more news
Ed.D. and Curriculum and Instruction Graduate Leads from the Middle as a Teacher, Technology Coach and Educational Consultant
Alumni Profile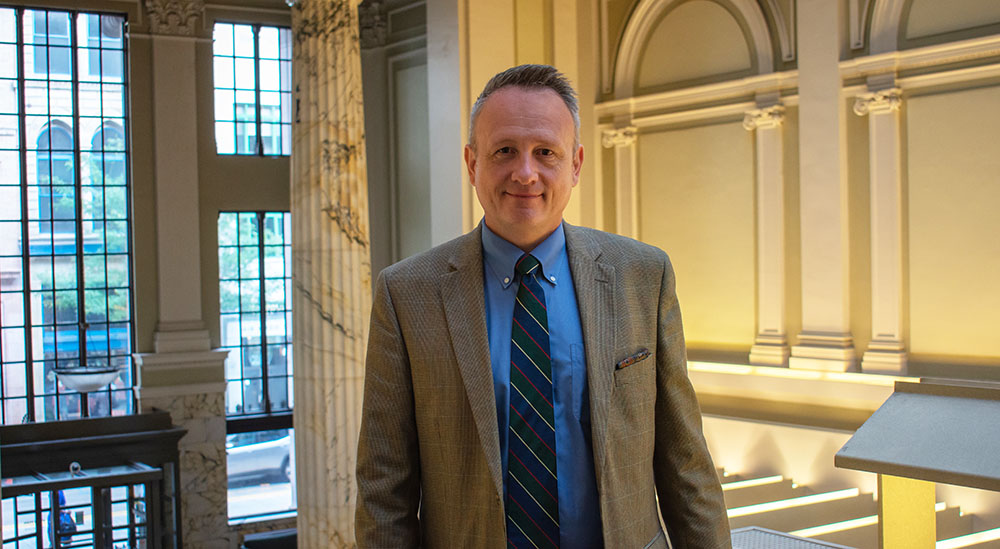 Youngs is pictured in his favorite place at Point Park University — the library. Photo by Brandy Richey, senior multimedia major
Meet Charles Youngs, Ed.D.
Job Title & Employer

Teacher of English and Communications, Curriculum Facilitator and Instructional Technology Coach, Bethel Park School District

Majors

Curriculum & Instruction-M.A., Leadership and Administration-Ed.D.

Graduation

2016, 2018

Hometown

North East, Pennsylvania

High School

North East High School

Now Living In

Pittsburgh (North Side)

Hobbies & Interests

Gardening, travel and reading as well as teaching
"Both Dr. Youngs and Point Park University make use of current and innovative strategies that enable growth for all involved. Dr. Youngs continues to advance as a professional, thanks in large part to Point Park's Ed.D. and M.A. in curriculum and instruction programs."
Zeb Jansante, Ed.D., principal, Bethel Park High School, and part-time assistant professor of education, Point Park University
"Point Park provided a dynamic blend of rigor, expertise, multiple perspectives and compassion that supported my academic and professional growth. I was delighted to complete the Ed.D. program in two years."
Charles Youngs, Ed.D.
Why did you choose Point Park for both a master's degree and doctoral degree?
My future interests lie in university programs, particularly working with pre-service teachers in English education. Point Park's doctoral degree program in leadership and administration caught my eye when it was introduced in 2014, but I was wary because of experiences of colleagues who started doctoral programs at other institutions and languished in time and expense without completion of the degree.
Since I was interested in adding a supervisory certificate to my credentials, the master's degree program in curriculum and instruction was the perfect way to become familiar with Point Park's education department. 
From my first classes at Point Park, I could tell I had found a good fit in a convenient location. As a New York University alumnus, I knew how vibrant and friendly an urban educational setting can be. The diversity of faculty and students at Point Park provided a dynamic blend of rigor, expertise, multiple perspectives and compassion that supported my academic and professional growth. I was delighted to complete the Ed.D. program in two years.
What's one of your favorite things about Point Park?
The library's access to resources is amazing. The University Center library staff does a brilliant job of finding resources important to graduate study through its inter-library borrowing system. In four years, I've requested dozens of books and scores of articles — and never have been disappointed. Within a day or two, I had what I needed for my studies. I swear they use Hogwarts' owls.
Tell us about your professional practice.
For nearly 30 years, I've taught students in literature and composition in high schools. Currently, I also train teachers as an instructional technology coach and lead an English Language Arts department. A former Pennsylvania finalist in the National State Teacher of the Year program and a National Board Certified Teacher, I enjoy serving as a consultant with education departments of museums, textbook publishers and other educational institutions.
How have Point Park's faculty impacted you and your career?
Faculty situate course work and research interests with students' current practices and career aspirations. Their theoretical and practical instruction are valued in my daily work. My research focused on how department leaders facilitate high reliability of educational programs in effective and mindful schools. This study re-energized my career and I look forward to new opportunities.
What advice do you have for education professionals pursuing leadership roles?
Everyone's perspective is unique. A key to leadership is respecting the unique perspectives and expertise everyone brings to the situation. At Point Park, my own path was supported by excellent practitioners and outstanding colleagues. Together, these aspects of the program propelled my understanding and capacity for leadership.
Final thoughts?
As both a teacher and student, I always have appreciated the saying attributed to Edmund of Abingdon: "Study as if you were to live forever; live as if you were to die tomorrow." Point Park's graduate and doctoral programs, with evening and weekend classes, provide a great match for leaders in a variety of fields to make a living and keep learning.
Connect with Charles Youngs, Ed.D.
More About: education, graduate education, Ed.D. in leadership and administration, M.A. in curriculum and instruction, alumni, graduate programs, Bethel Park Senior High School