more news
Chicago Poet Annah Browning Visits Campus to Share Poems from Her Manuscript, Witch Doctrine
Tuesday, April 3, 2018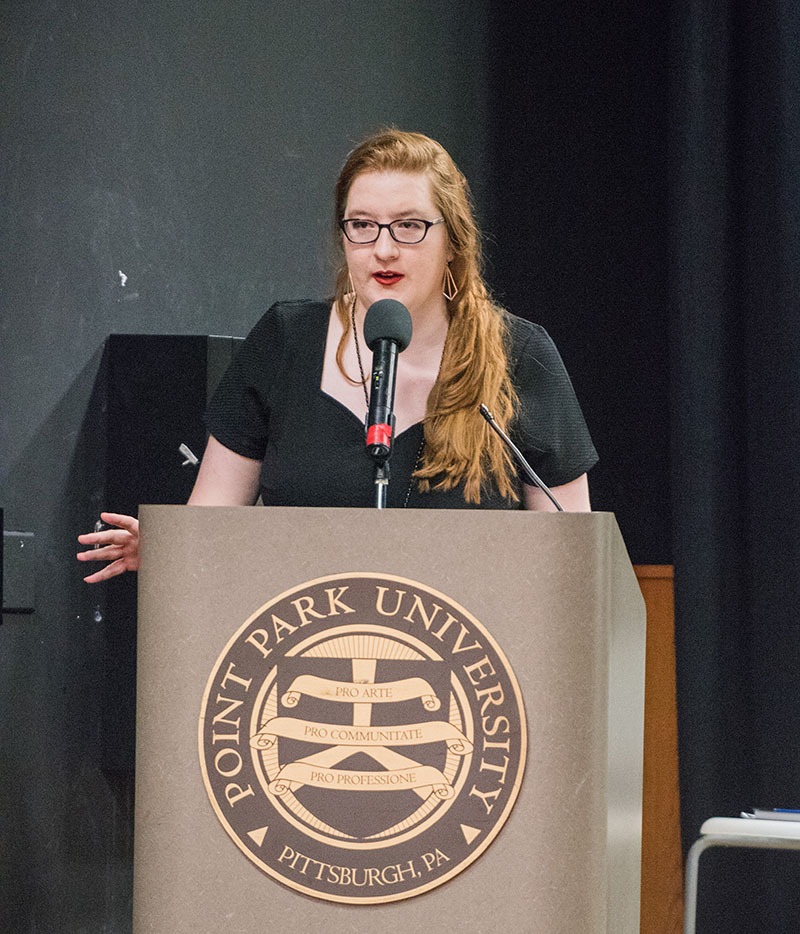 Poet Annah Browning came to Point Park University March 26 from Chicago to share poems from her recent manuscript, Witch Doctrine.
Browning also talked with Point Park students and faculty about why people believe in crazy things and shared her experiences with haunted podcasts and a book of 5,000 spells, among others.  
"Annah credits her upbringing in rural South Carolina for getting her interested in the gothic and witchy, but she's always been interested in the voices of the dispossessed and disfranchised, especially the female and the queer," explained Chris Girman, Ph.D., assistant professor of literary arts.
"I thought it was incredibly inspiring to see how passionate Ms. Browning was about her writing and it was interesting to learn that there is an encyclopedia of 5,000 spells that are all compiled from a bunch of different cultures," said Angela White, a junior SAEM major and graduate of North Hills High School in Pittsburgh, Pa.
White added: "My favorite part was when she told us about how she learned that ghosts appear to have a pastel pink color as opposed to the stereotypical, white color."
Browning is an editor at Grimoire, an online literary publication for the witchy and the weird. Her work has appeared in Verse Daily, The Spectacle, Willow Springs, The Adroit Journal, The Kenyon Review Online, Superstition Review, Harpur Palate, DIAGRAM, word for /word, Sixth Finch and other journals. Additionally, she is the author of a chapbook, The Marriage, from Horse Less Press.
Photos by Nick Koehler, freshman photography major
More About: Department of Literary Arts, faculty, student workshop, School of Arts and Sciences, North Hills High School, creative writing