more news
Civil Engineering Technology Club at Point Park Places Second in Concrete Horseshoe Competition
Friday, June 1, 2012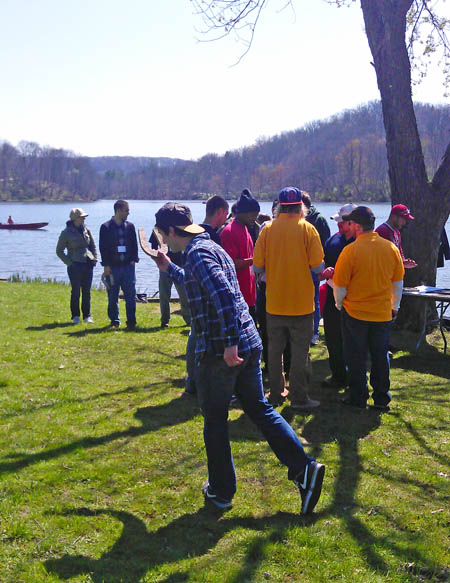 Point Park civil engineering technology student Joshua Ray
prepares to throw a horseshoe. Photo by Gordon Murray
The civil engineering technology club at Point Park University had an impressive second place finish at the 2012 horseshoe competition hosted by the Ohio Valley Student Conference of the American Society of Civil Engineers.

Point Park's team — made up of civil engineering technology majors Gordon Murray, Susan McCartan, Joshua Ray, Jonathan Monzingo, and Tony Lupori — competed against students from the University of Akron, University of Pittsburgh, Cleveland State University, Carnegie Mellon University, Western Kentucky University, Cincinnati State Technical and Community College, and Youngstown State University.
"The competition allowed students to get to know colleagues who they may end up working with," explained Daniel Reed, M.S., associate professor of civil engineering technology and the club's advisor.
Reed teaches various engineering technology courses at Point Park including Fluid Mechanics, Fluid Mechanics Laboratory, Introduction to Surveying, Reinforcement Concrete Design, Strength of Materials, Strength of Materials Laboratory, and the Soils Laboratory.
"It was an interesting academic exercise. We were able to put what we learned in the classroom into a real-world application. It was also a great opportunity to network with other engineers in the area," said Murray, who served as the club's president this past fall and spring semesters.
Point Park's team worked for more than eight weeks on the design of their horseshoe. They decided to prepare a concrete mixture that would primarily exhibit flexibility rather than just high compression or tensile strength. Their plan was to make concrete that was more resilient and would give their horseshoe more spring.
"We put a fair amount of work into making concrete mixes. Ultimately, our strategy to make a low strength concrete worked very well for this specific application," explained Murray, who works as a civil engineer for his own engineering consulting firm, Murray Associates, Inc. This spring he graduated with a Bachelor of Science degree in civil engineering technology.
According to Reed, engineering technology students at Point Park get great hands-on laboratory experience and are "ready to work or continue working in the industry and do well for themselves."

"It was nice still being able to work full time while taking classes in the evening and on Saturdays," remarked Murray.
Tony Lupori, the club's incoming president, is currently organizing a team to compete in next year's concrete canoe competition, the main event of the student conference.
Students interesting in learning more about the civil engineering technology club at Point Park University can contact Professors Dan Reed or Robert Garson.
More About: engineering technology, student competition, civil engineering technology