more news
Conference explores teaching diversity via interactive learning
Tuesday, May 25, 2010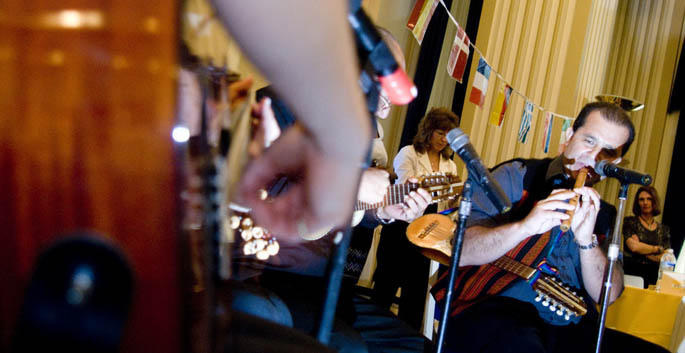 Above: The Andean band Musuhallpa performs for a music fusion workshop during the Multicultural Conference. Below: The conference co-coordinators -- Karen Hall, director of e-learning, and Vincenne Revilla Beltrán, professor of education and director of Project Children L.E.A.D.
Point Park hosted a full day of unique and engaging activities -- all designed to promote diversity -- at the 5th Annual Multicultural Conference on May 7. The conference, originally developed by Point Park Prof. Vincenne Revilla Beltrán, Ph.D., gives educators and administrators a forum to explore new and innovative ways to improve multicultural education through interactive learning.
Revilla Beltrán is the director of Project Children L.E.A.D. (Learning Early to Appreciate Diversity).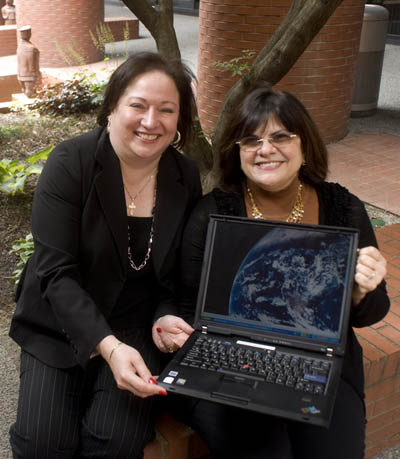 "It's so important for educators to come together and discuss new ways to teach children about cultures and diversity," said Revilla Beltrán. "It is our responsibility to understand new emerging Web 2.0 technologies and the best ways to incorporate these tools into learning in developmentally appropriate ways based on the needs of our students. This conference provides an exciting opportunity for teachers to share, collaborate and identify instructional strategies for deep and lasting learning. "
This year's conference involved discussions around the use of Second Life, a 3D virtual world website, as a medium for professional development and teaching; how to use videoconferencing technology to engage students in collaborative learning; and active versus interactive learning.
"Multi-media is becoming increasingly popular among younger and younger children," said Karen Hall, director of e-learning at Point Park and co-coordinator of the conference. "Students as young as fourth grade are making videos and uploading them to YouTube."
A new component of this year's conference was the Project Children L.E.A.D. Diversity Contest. Students in 4th, 5th and 6th grade were asked to submit creative work in the form of a short story or poem, or create an original piece of artwork that focused on this year's theme, "How has diversity positively affected your life?" The winners were honored at the conference and were invited to participate in the Andean and Chinese Music Fusion and Workshop with guest musicians Musuhallpa, an Andean ensemble, and Mimi Jong, who plays the erhu.
Samantha Paradise, a Point Park graduate student in the master of arts in curriculum and instruction program, found the day to be particularly informative.
"I didn't know Second Life existed before today, so being introduced to that site was very interesting," said Paradise. "The videoconferencing discussion was incredible. Children can truly learn from anywhere now."