more news
Confluence Psychology Alliance Student Group Visits Pittsburgh Action Against Rape
Monday, October 21, 2013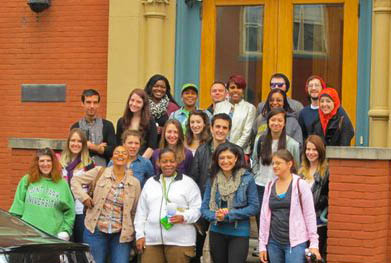 Point Park University's Confluence Psychology Alliance student group recently sponsored a training trip to the Pittsburgh Action Against Rape office.
During the visit, undergraduate and graduate psychology students met with Laura Summers, education and training specialist for PAAR.
"Students experienced informative and moving lectures and activities. They also toured the facilities, which were impressive and welcoming," remarked Robert McInerney, Ph.D., associate professor of psychology and founder and advisor of Confluence Psychology Alliance.
Topics covered at the training included what consent means, how to respond to a disclosure of sexual violence and how to intervene on behalf of a victim.
"After seeing PAAR's facilities and hearing about their art therapy programs with children, I've become really interested in pursing a career as an art therapist," said Calla Kainaroi, a junior psychology major and co-chair of Confluence Psychology Alliance.
According to Leatra Tate, who is pursuing her M.A. in clinical-community psychology, trips like this are not only important for psychology students but the entire Point Park community.

"They allow everyone to step outside of the on-campus bubble and to better understand the issues in our community in a very real and authentic way. It's a great opportunity to learn from passionate facilitators who deal with these issues on a daily basis," Tate explained.
For information on upcoming events, visit the Confluence Psychology Alliance Facebook page.
More About: Confluence Psychology Alliance, psychology, student trips