more news
Creative Writing Student's Nonfiction Essay Published in Online Literary Magazine
Thursday, December 15, 2016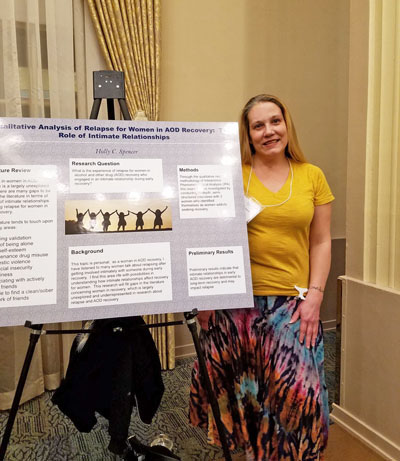 Spencer presents her research on women in recovery at
Point Park's 10th Annual Undergraduate Qualitative Research
Conference.
Point Park University student Holly Spencer is featured in the Fall 2016 issue of Jet Fuel Review for her nonfiction essay, "Stuck."
"The inspiration for this creative nonfiction piece came from my battle with drug and alcohol addiction and my struggle to maintain recovery. One day at a time, I am winning," explained Spencer, a graduate of Avonworth High School in Pittsburgh, Pa.
Spencer decided to transfer to Point Park to double major in creative writing/English and behavioral sciences.
"I chose Point Park because of the high regard it places on the humanities, whether it be creative writing and journalism or social work and psychology," Spencer said.
According to Spencer, it was Karen Dwyer, Ph.D., associate professor of English and coordinator of the creative writing program at Point Park, who saw great potential in her essay "Stuck."
"If she had not encouraged me to expound and revise,
I may not have pursued it. Professor Dwyer's help was invaluable and I am forever grateful for her wisdom and guidance," Spencer said.
After Spencer graduates this spring, she plans to continue her employment in the social work field (helping women in recovery from drug addiction as well as overcome other life obstacles) while pursuing her passion for writing.
"Point Park has educated me on the nuances of writing well-wrought prose and poetry and creative nonfiction," Spencer remarked.
She added: "Regarding my behavioral sciences major, I have been challenged by my professor and advisor, Dr. Sarah Schulz, to push through with quality research and theory. I will take everything I have been taught at Point Park and apply it to everyday life."
Learn More
Learn more about the creative writing/English and behavioral sciences majors at Point Park University. Request information, schedule a campus visit or apply online.
More About: transfer, School of Arts and Sciences, Department of Literary Arts, behavioral sciences, creative writing, Avonworth High School, Department of Humanities and Human Sciences