more news
Criminal Justice Administration Grad Students Address Serious Societal Issues at Symposium
Monday, August 14, 2017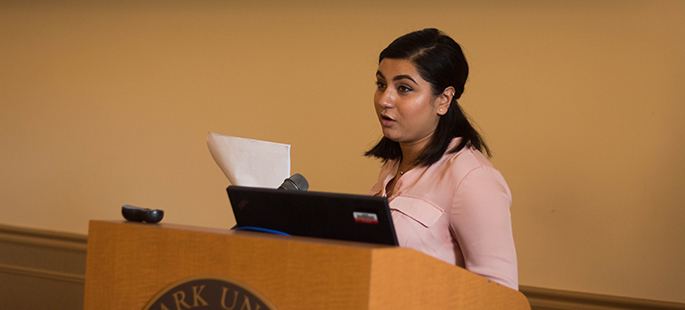 Pictured is graduate student Khyatai Raj Solanki presenting on the topic of "Police and Technology."
From juvenile violence to the opioid epidemic, students in the Master of Science in criminal justice administration program addressed some of the most serious issues facing our nation Aug. 2 at the CJA Graduate Symposium held on campus.
Additionally at the symposium, several of the students were inducted into the Alpha Phi Sigma National Criminal Justice Honor Society.
"To make the real-world connection to their academic research, students interviewed criminal justice professionals as part of this capstone seminar project. In addition to increasing their knowledge, in some cases this project changed students' perspectives on the issues they were researching," explained Richard Linzer, J.D., associate professor of criminal justice and director of the M.S. in criminal justice administration graduate program.
"This combination of reality and academics is what sets our master's program apart," Linzer added.
The August 2017 capstone seminar students and their research topics were:
Keith Christman: "The Mentality of the Incarcerated"
Tenille Edmonds: "Substance Abuse: Opioids, Cocaine, Heroin and Treatment"
Pennye Hall: "Juvenile Substance Abuse and Treatment"
Sequaya Johnson: "Juvenile Substance Abuse and Treatment"
Khyatai Raj Solanki: "Police and Technology"
Kristen Rodgers: "Overcharging and Pleas Bargaining: Beneficial to Our Criminal Justice System or a Violation of One's Constitutional Rights?"
Kelly Schuetz: "North American Opioid Epidemic: How, Why and Possible Solutions"
Steven Springette: "Mental Illness and Crime in Youth Offenders"
"The current spike in overdose rates is what inspired me to select my presentation topic," said Edmonds, whose career goal is to work in human services management, focusing on reintegrating individuals back into society after incarceration.
Edmonds added: "Point Park is teaching me the key skills needed to be a successful manager and leader."
According to Rodgers, inspiration for selecting her presentation topic came from her strong belief in the U.S. Court System's "Innocent Until Proven Guilty" stance.
"I have always wondered how often innocent people are convicted by way of false confessions in our criminal justice system, why innocent people confess to crimes and which procedural steps and processes may be influencing wrongful convictions," Rodgers said.
She added: "I want a lifelong career in a field that will make a difference in people's lives. My career goal is to work as a criminal investigator/detective. Point Park University has helped by preparing me for this new and exciting journey. I've also made a great group of lifelong friends!"
For Schuetz, her presentation topic was especially personal.
"I chose this topic because the opioid epidemic is prevalent in everyone's lives. Everyone knows someone, or knows someone who knows someone, who is battling addiction. This hit my family, in particular, when my brother died of a heroin overdose in 2012," said Schuetz, whose career goal is to become a special agent with the Drug Enforcement Administration.
Schuetz added: "Point Park University has given me the tools to better myself through education, which helped me to secure and pass an interview with the DEA. I'm so thankful for Point Park's faculty who have helped me along the way, especially Dr. Linzer."

Photos by Annie Brewer, junior cinema production major
More About: graduate programs, School of Arts and Sciences, research, M.S. in criminal justice administration