more news
Criminal Justice Administration Program Hosts Symposium to Showcase Grad Student Research
Friday, September 2, 2016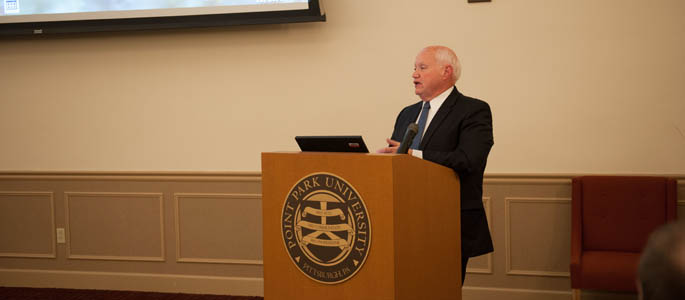 Pictured above: Richard Linzer, J.D., associate professor of criminal justice and director of the Master of Science in criminal justice administration program, brings more than 40 years of legal experience into the classroom.

Master of Science in criminal justice administration students presented research Aug. 20 on a variety of criminal justice related issues including the effectiveness of pretrial detention, legal immigrant drug crime and veterans treatment courts.
"All of the students interviewed members of the greater Pittsburgh community who actively work in the areas they researched," explained Richard Linzer, J.D., associate professor of criminal justice and director of the M.S. in criminal justice administration graduate program.

"They connected their academic research to real-world experiences, which is something we strive to achieve in the graduate criminal justice program here at Point Park," Linzer added.
The August 2016 capstone seminar students and their topics were:
Lindsay Black: "Pretrial Detention: How Effective is it?"


Laura Burlbaugh: "Should Canines in the Police Force Be Considered Officers?"


Annie Fiffick: "The Effectiveness of Drug and Alcohol Treatment Programs in Prisons: Understanding Their Impact on Recidivism Rates"


Lauren Gabriel: "Human Sex Trafficking: The Link to Juvenile Abduction"


Dana Gorondy: "Veterans Treatment Court"


Deborah Mosley: "The School to Prison Pipeline: An Examination of Punitive Measures Within the Educational System that Directly Supply the Pipeline"


Antionette Sanders: "Legal Immigrant Drug Crime and Deportation"


Percy Wimbs: "The Foster Care System and the Nexus With the Criminal Justice System"
Gorondy chose to research treatment courts for veterans and the success these courts have had in rehabilitating offenders and lowering recidivism rates.
"These types of courts treat the specific issues that cause individuals to offend," Gorondy remarked.
Wimbs has reseached rentry and recidivism in the past, so this time he decided to focus on children in the foster care system.
"I chose this topic because I was a foster child and I wanted to get more insight on the problems, issues and changes that have occurred from my time in the foster care system to now," Wimbs said.
Mosley studied the need to dismantle zero tolerance policies in schools to help reduce increasing numbers of incarceration among young adults.
Based on her research, she argued that this issue needs immediate intervention from state and local advocates.
"The education I have received at Point Park University has prepared me to become a leader in all aspects of the criminal justice system," Mosley commented.
"I am very grateful for my time at Point Park. My classmates, as well as my professors, have provided me with so many different insights," Burlbaugh added. "I will forever cherish the bonds I have created and everything I learned from them as well."
As a probation officer for Allegheny Country Pretrial Services, Black chose to pursue a master's degree at Point Park to advance in her career field and help better serve the needs of the criminal justice system.
"This degree has given me the ability to expand my critical thinking skills and look at what is better for the community as a whole," Black said.
For Gabriel, earning a master's degree has put her on the path to her dream job of being a Pittsburgh Police Officer and helping to stop human sex trafficking and juvenile abduction.
"I enter the academy next month and hope to focus on crimes of this nature down the road,"Gabriel said.
More About: research, student presentations, School of Arts and Sciences, M.S. in criminal justice administration, Pittsburgh, graduate programs