more news
Criminal Justice Club Shows Appreciation for Pittsburgh Police Officers
Friday, December 16, 2016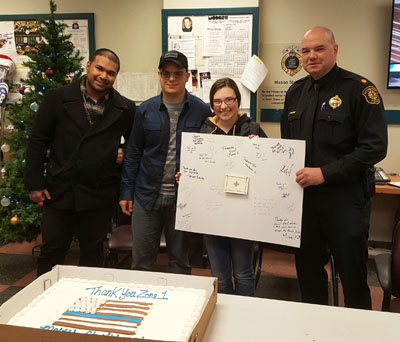 Criminal Justice Club members Amar Shiwlochan, Carlin Diachun
and Kaylee Kearns with Pittsburgh Police Zone 1 Commander
Christopher Ragland
Criminal Justice Club members at Point Park University recently hosted a "Cakes for Cops" event, visiting several Pittsburgh Police zones with cakes and cards to show appreciation for the city's police officers.
"Together, we came up with the 'Cakes for Cops' idea as a way to give back to cops. As civilians, we feel safe to celebrate the holidays with our families because of these officers risking their lives for us," said Amar Shiwlochan, a senior criminal justice major from Flushing High School in Queens, N.Y. "Some people around the world do not have that privilege, so it's important we give back."

"We believe it is our civic duty to show appreciation for those who risk everything to protect us. 'Cakes for Cops' was the perfect opportunity for us to give a gift of a tasty treat as well as shake the officers' hands and personally show our support," said Carlin Diachun, a junior criminal justice major from Livonia, Mich.
Sean Elliot Martin, Ph.D., instructor of criminal justice and intelligence studies, explained that when the club met earlier this year to discuss possible projects, the focus quickly turned to police appreciation.
"The students were all very eager to express to our local police officers that we appreciate and support them. It's one of the hardest, most important jobs in the world, and we really value those who represent the law enforcement community with ethics and professionalism," Martin said.

Shiwlochan added: "I hope 'Cakes for Cops' is the start to a Point Park Criminal Justice Club tradition."
As a Point Park student, Shiwlochan has completed several internships with the Pittsburgh Police, gaining experience with detectives in special units such as homicide. His career goal is to work in law enforcement - a dream he's had since he was four years old.
"Point Park has assisted me with my internships. I am very appreciative to Point Park and I hope to give back to the University one day," Shiwlochan said.

Diachun's career goal is also to work in law enforcement.

"This has been a dream of mine for a very long time. Point Park is helping me achieve this goal in two ways: education and networking," Diachun said. "In the classroom, I am learning about the roles, responsibilities and mindset needed to be a law enforcement officer. As for networking, the University has hosted multiple job fairs and events, giving me the opportunity to have conversations with the people doing the types of jobs I am pursuing."
Learn More
Point Park University offers a Bachelor of Science degree in criminal justice and a Master of Science degree in criminal justice administration.
Request information, schedule a campus visit or apply online.
More About: Pittsburgh, criminal justice, student trips, School of Arts and Sciences