more news
CSI Camp Brings in High School Students From Across the Nation to Point Park's Campus
Thursday, August 13, 2015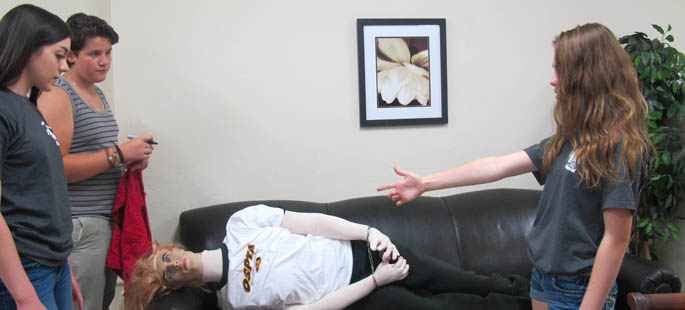 Point Park University's July 14-17, 2015 crime scene investigation summer camp brought in 38 high school students from states across the nation including Colorado, Georgia, Maryland, New York, North Carolina, Virginia and Pennsylvania.
CSI Camp 2015 Video Recap
During the four-day camp, students learned about careers in forensic science, criminal justice and intelligence and national security. They also engaged in a variety of mock forensic science work such as processing the CSI on campus and conducting labs on blood splatter, fingerprinting, hair analysis and impression evidence.
"The students were smart, attentive and looking for as much knowledge as they could to get a better focus on specific career fields they want to pursue," remarked Edward Strimlan, M.D., assistant professor and coordinator of the forensic science program.
"I decided to come to the camp to explore what CSI is all about. I want to work for either the CIA or the U.S. Marshals," said Jake Katsafanas, a sophomore at Plum Senior High School.
"The trace evidence labs were really cool because you got to use the microscopes," added Catherine Getty, a sophomore at Quaker Valley.
In addition to doing crime scene work, the students also heard presentations on cyber threats and Ninja fighting.
"We discussed what is known about the historical Ninja/Shinobi, common myths and misconceptions, their origins, types of missions, weapons, tools and tactics," explained Sean Elliot Martin, Ph.D., instructor for the Department of Criminal Justice and Intelligence Studies. "We also made a non-injurious version of one of their most inventive weapons."
The camp wrapped up with crime scene scenario group presentations and an awards ceremony in which parents were invited to attend.
"The cooperation between the CJIS faculty and the University gave the campers a highly educational, activity-filled camp experience," said Strimlan. "I look forward to hosting another great group of students at next summer's camp."
Visit the CSI Summer Camp for High School Students page to learn more about the annual camp. Information about next year's camp will be posted in spring 2016.
More About: intelligence and national security, high school programs, Quaker Valley High School, CSI house, forensic science, Plum Senior High School, criminal justice