more news
Dual certification option now available for education undergrads
Tuesday, March 1, 2011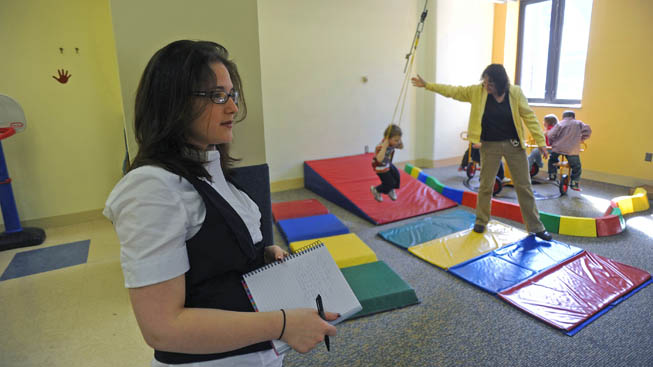 Above and below: As part of their course work, Point Park education majors observe how Watson Institute teachers work with pre-school students who have special needs.
March 2011
As schools strive to serve the needs of special education students, Point Park University has unveiled innovative programs at both the undergraduate and graduate levels to help prepare new teachers and enhance the skills of experienced teachers to work with children who have special needs.
More about Point Park's education programs
Undergraduate programs
Master of Education in Special Education
Admissions Information
Request information
In Fall 2010, the University began offering a model dual certification option for undergraduates to meet Pennsylvania's teaching certification requirements that take effect in 2013. The option lets students complete in eight semesters the requirements for special education certification in either pre-kindergarten-grade 8 or grades 7- 12, along with initial teaching certification.
For Fall 2011, the University will offer a new Master of Education in Special Education leading to Pennsylvania certification for pre-kindergarten-grade 8 or grades 7- 12.
Darlene Marnich, Ph.D., education department chair, says Point Park is seeing strong interest in the new programs.
"As schools become more inclusive, special education teachers and general education teachers increasingly work together in general education classrooms," says Marnich.
Point Park is one of only 12 Pennsylvania schools approved for undergraduate and graduate students to pursue certification in special education at the secondary level along with initial certification. And the University is one of the few to offer the programs over four years, including student teaching.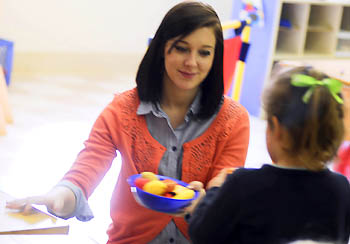 "With reciprocity among most states, our graduates will be taking their new Pennsylvania certificates and applying for teaching jobs throughout the country in as little as four years," Marnich says.
"Point Park graduates will certainly be welcomed by school principals who will be looking for the most qualified new teachers with special education certification," says J. Kaye Cupples, Ph.D., associate professor of special education and board member of the Parent Education and Advocacy Leadership Center.
Cupples helped design Point Park's model programs, which encompass community partnerships with organizations like the Watson Institute that serve students with special needs.
Marilyn Hoyson, chief operating officer of the Watson Institute and a member of Point Park's education advisory board, teaches a course on autism spectrum disorders. This semester, Point Park students are observing teachers working with young children with autism and their typically developing peers at Watson's LEAP Preschool in Sharpsburg as well as children up to age 21 at the Watson Education Center in Sewickley. Hoyson will also teach in the new master's program.
Marnich says that the M.Ed. in Special Education enhances the skills of all teachers.
"Educators with this master's degree will be an asset to any school district and as such, will be more marketable," she explained.
The 36-credit M.Ed. is structured to fit the schedules of educators and professionals and provides yet another means for teachers to acquire the credits needed to obtain Level 2 certification.