more news
Ed.D. Students Engage in Diversity Discussion Led By World Affairs Council of Pittsburgh
Tuesday, December 13, 2016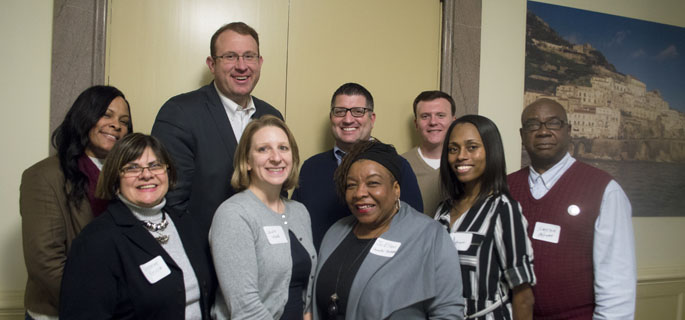 Professor Vincenne Revilla-Beltrán, Ph.D., (first row, far left) with Ed.D. students from her
Visionary Leadership course

Point Park University doctoral students in the Ed.D. in leadership and administration program attended "Diversity Through the Eyes of Women," an interactive discussion hosted Dec. 6 by the World Affairs Council of Pittsburgh on diversity and inclusion.
Held on Point Park's campus, the discussion addressed challenges faced by immigrant and international communities in Pittsburgh, especially women, and ways the larger community can promote a more welcoming environment.
The doctoral students attended as part of their Visionary Leadership course, taught by Professor of Education Vincenne Revilla-Beltrán, Ph.D.
"The conference topic aligned with our course content by focusing on the importance of community stakeholders' involvement in addressing a shared vision for productive transformational change," Revilla-Beltrán explained.
Mary Montague, a world-renowned peace builder and conflict resolution practitioner, was the keynote speaker and discussion moderator.
"Much of what Mary said can be cross-culturally adapted because of the fact that as humans we are all in this together. Meaning, one person's fight will eventually find itself on his or her neighbor's doorstep. It is what we do with the fight that matters," said Ed.D. student Jared Robison, a business instructor at Ohio Valley College of Technology in East Liverpool, Ohio.
Ed.D. student Rob Kartychak enjoyed learning about Montague's global vision and the impact community relations can have on many facets of the community.
"Having the privilege to listen to such a visionary leader sparked some great ideas in me," remarked Kartychcak, an assistant elementary principal for Hopewell Area School District in Aliquippa, Pa.
Doctoral student Laura Ward, a librarian for Fox Chapel Area High School in Pittsburgh, Pa., said: "This lecture reminded me of the importance librarians play in bridging the gap and creating an all-inclusive place for students. There are many ways I can work with various cultural communities within my district to creative positive events that share in our cultural richness."
A native of the town of Eke in Enugu, Nigeria, doctoral student Simeon Agwoh found the discussion to be a great reflection of what he has in mind for his dissertation, tentatively titled, "Visionary Leadership and Inter-Ethnic Conflict."
"The discussion was a clear confirmation of what I have known for a long time - that women are dynamos and very dedicated to making diversity a reality in every corner of the planet," Agwoh said.
Revilla-Beltrán added: "The conference provided a great networking opportunity for the doctoral students, especially those who work directly with local and state leaders."
Learn More
The Ed.D. in leadership and administration program offers four concentrations: professional leadership, superintendent's letter of eligibility, K-12 administration and an individualized concentration. Applications for the fall 2017 semester are being accepted until March 24, 2017.
Photo by Shayna Mendez, a senior photojournalism major
More About: Pittsburgh, Ed.D. in leadership and administration, doctoral programs, School of Arts and Sciences, education