more news
Education Alumna Teaching International Elementary Students
Tuesday, February 10, 2015


Meet Amanda Trainor
Job title: English as a Second Language Specialist (teaching third, fourth and fifth grade)
Employer: Chartiers Valley School District
Degree earned: B.A. in Elementary Education, 2011, Point Park University and English as a Second Language certificate, Allegheny Intermediate Unit, 2013
College activities: Point Park women's soccer team and the NAIA Champions of Character mentoring program
Hometown and current residence: Pittsburgh, Pa.
Hobbies/interests: Shopping, playing with my new puppy, wedding planning, watching movies and hiking with my fiance
Who inspired you to become an educator?
I always wanted to be a teacher. I'll never forget how one year for Christmas I got a chalkboard. However, my inspiration came from having such a great fourth grade teacher. In her class, we did a really neat pen pal project with both local and semester-at-sea students. It was such a cool project. We learned so much about writing just doing those fun letters that it made me want to be a teacher. She was a phenomenal teacher and I remember her always being so involved. I wanted to be like her.

Tell us about your role as an English as a Second Language Specialist.
All of my students are from different countries and have a first language other than English. I work my students in small groups on various goals, including getting them to grade level within the areas of reading, writing and English. It's a really cool job. I learn so much about different cultures and languages.
Why did you choose Point Park and its education program?
I actually was going to go to another university but then I met Jeroen Walstra, who was the coach of Point Park's women's soccer team at the time. He highly encouraged me to come to Point Park to play soccer. I decided to cancel my room and board at the other university and come to Point Park to study education and play soccer.
What are some of your favorite Point Park memories?
I loved playing soccer and the people I met. I also loved the classroom observations we did in the education program such as going to the Waldorf School of Pittsburgh, the Carnegie Mellon University Cyert Center for Early Education and University Prep Academy in Downtown Pittsburgh. I loved going to these schools and seeing all of their different education systems and what they had to offer. They all had different goals but their main goal was the same - to help the students.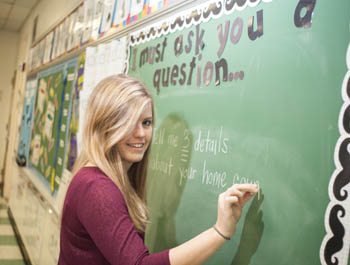 Working with kids in the NAIA Champions of Character Mentoring program was great, too. I loved going over to Pittsburgh King PreK-8 school on the North Side and working with the kids. We mentored the students and talked to them about everything from going to college to playing sports.
Describe the teaching style of Point Park's education faculty.
Point Park's education professors really care about their students. Because the class sizes are smaller, they get to know you on a personal level and are there to help you out. For me, it was very helpful that the professors were flexible with my soccer schedule.
Also, the professors put a lot of time into their students and their lessons. Their teaching plans were laid out thoughtfully, which turned out to be very helpful when you were ready to begin student teaching and pursuing a full-time teaching position.
What are your career goals?
I'd like to get my master's degree in English as a Second Language, teach in the classroom for a long time and continue to become better at my job. Eventually, my goal is to be a professor.
Is there anything else you'd like to add?
Pursuing a career in education is a lot of hard work but in the end it is 100 percent worth it. My advice for Point Park's education students is to find different parts of education that you like and seek certification and additional knowledge in those areas. For example, I was really interested in learning about people from other cultures so I got my ESL certification and now I love what I'm doing.
More About: elementary education, alumni, education, success story