more news
Education Majors Teach Junior Achievement Topics to Elementary Students
Monday, December 9, 2013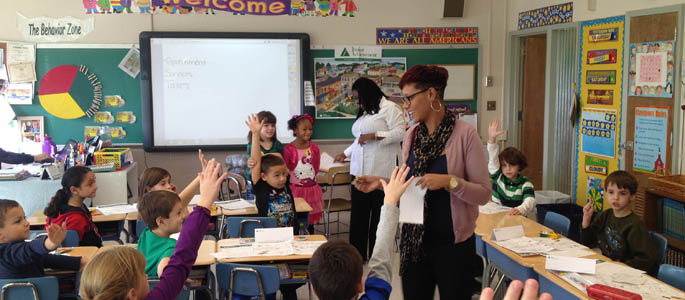 Freshman elementary education majors taking the "Introduction to the Teaching Profession" course recently had the opportunity to gain hands-on teaching experience in the classroom, thanks to a partnership between Point Park University and Junior Achievement of Western Pennsylvania.
Point Park's education majors spent a day at Clara Barton Elementary School in West Mifflin, Pa., teaching kindergarten through third-grade students lessons on entrepreneurship, work readiness, financial literacy and the economics of life.
"Opportunities like this are very beneficial to education majors because it gives us an opportunity to get into the classroom, interact with students and see what a typical day would be like as a teacher," explained Stephanie Galbraith, a freshman Pre-Kindergarten through fourth grade education major. "My favorite part about teaching at Clara Barton was interacting with the students and hearing their responses to the questions asked during the lessons."
Galbraith taught first-graders at Clara Barton about the roles people play in the local economy and engaged students in activities about needs, wants, jobs tools, skills and interdependence.
"This was a great opportunity for our freshmen education majors to achieve credit hours," remarked Ken Mori, adjunct instructor and ABCTE coordinator for the education department. "All of our students came prepared and interacted very well with the children at Clara Barton."
Prior to teaching the elementary students at Clara Barton, Point Park's education majors received training on campus from Ashley Zahorchak, education program manager for Junior Achievement of Western Pennsylvania.

"This partnership not only provided our elementary students with the basic fundamentals of economics but it also allowed Point Park students to showcase their teaching ability. We look forward to continuing to work with the great students and staff at Point Park University to provide additional opportunities for school age youth of Western Pa," said Zahorchak.
More About: education, student trips, Junior Achievement, elementary education