more news
Education Student and Professor Selected as Keynote Speakers
Friday, January 27, 2017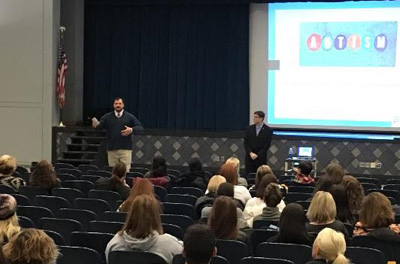 As the selected keynote speakers, Point Park University sophomore secondary education social studies and special education major Timothy Grebeck and Special Education Assistant Professor Matthew Vogel, Ph.D., presented at the Midwestern Intermediate Unit IV Tri-County Transition Conference at Slippery Rock University.
Vogel spoke to junior and senior high school students with various disabilities about the legal aspects of transitioning from high school to post-secondary educational settings. Student conference attendees represented more than 20 Pennsylvania school districts.
"I provided tips for the students, based on my dissertation research, to consider as they contemplate the transition," Vogel said.
Grebeck, a graduate of Canon-McMillan High School in Canonsburg, Pa., also provided tips to the students for success with transitioning to post-secondary education and discussed his own experience with selecting Point Park.
Additionally, Grebeck and Vogel recently presented "Autism: A Continuing Challenge for Educators and Students Alike" to paraprofessionals and special education and gifted education teachers at Seneca Valley School District.
"My purpose was to give people who work with students with autism an inside look at my own life experiences and a chance to use my story to gain a better understanding of their students," Grebeck explained. "Throughout the presentation, many of the teachers asked questions about techniques they could use in their classrooms."
Grebeck added: "If using my voice can help just one person who is in a similar situation, I consider it a success. I speak so that those who cannot have a voice through me."
Learn More
Explore Point Park University's secondary education undergraduate program (with the option to become dual certified in special education) and master's degrees in secondary education and special education.
More About: education, School of Arts and Sciences, faculty presentation, secondary education, special education, student presentations, Seneca Valley High School, Canon-McMillan High School, faculty