more news
Electrical Engineering Major Offered at Point Park for Fall 2016
Friday, April 1, 2016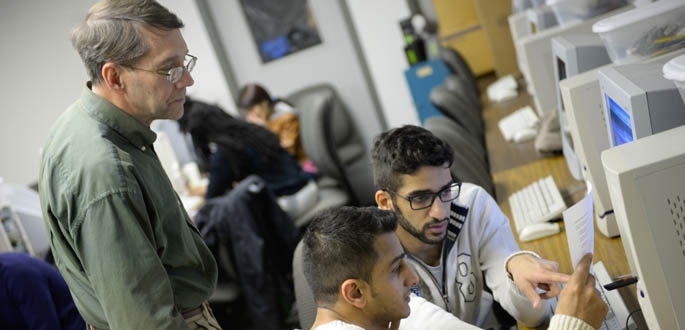 Electrical Engineering Professor Donald Keller, Ph.D., P.E., works closely with his students.

Beginning fall 2016, Point Park University in Downtown Pittsburgh will offer a Bachelor of Science degree program in the thriving field of electrical engineering.

Point Park's new program combines rigorous theoretical study in electrical engineering with extensive laboratory experience.
"Our program educates students in the timeless fundamentals of science, mathematics and electrical engineering while incorporating specific technology to illustrate these fundamentals," remarked Donald Keller, Ph.D., P.E., professor of electrical engineering.
According to Keller, every electrical engineering course at Point Park includes a laboratory component to reinforce theory with hands-on practice.

Additionally, students have the unique opportunity to take electrical engineering courses their first semester.
"Students hit the ground running here and get to know us very well by the time they graduate," said Gregg Johnson, Ph.D., associate professor of electrical engineering and chair of the NSET department.

"Electrical engineering is a big field with myriad specialties. Our curriculum is designed to give our students a solid footing in the fundamentals, but with enough electives to explore an area of personal interest," added Johnson.
Other distinctive features of the 131-credit electrical engineering program include:
Small class sizes allowing for personalized attention from faculty
Courses taught by full-time and part-time faculty with professional engineering experience
Laboratories reflective of typical industrial facilities and workplaces
Evening and weekend class schedules to accommodate students working full time during the day
Downtown Pittsburgh location with convenient access to internships and careers
"The areas of electrical power, digital electronics and communications continue to be in strong demand for qualified electrical engineering graduates," explained Keller. "Upon graduation, our students are well prepared for professional practice in the workplace."
Learn More
Learn more about the electrical engineering program at Point Park University including degree requirements, the typical Bachelor of Science course sequence and career opportunities.

Prospective incoming freshmen and transfer students are currently being accepted into the electrical engineering program for the fall 2016 term. Request more information, schedule a campus visit or apply online.




Photos by Chris Rolinson and Victoria A. Mikula, junior mass communication major
More About: Downtown Pittsburgh, School of Arts and Sciences, faculty, electrical engineering