more news
Elementary Education Alumnus Earns Grant for His Students at D.C. Preparatory Academy
Wednesday, December 17, 2014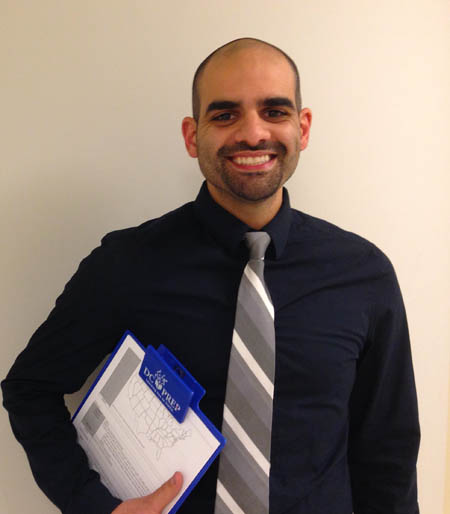 Meet Michael Suppa
Job Title: Literacy Intervention/Science Teacher
Employer: D.C. Preparatory Academy
Degree earned: B.A. in Elementary Education, Point Park University, 2010
Pursuing: M.Ed. in Curriculum and Instruction, George Mason University
College activities: Green and Gold Society and volunteer teacher at Kenyan orphanage
Hometown: Pittsburgh, Pa.
Now living in: Washington, D.C.
Hobbies/interests: Traveling and volunteering
LinkedIn: Michael Suppa
Update
Michael is now an ESL teacher for the Alexandria City Public Schools. He lives in Alexandria, Va., and recently earned an M.Ed. from George Mason University. Additionally, he was named a 2016 "40 Under 40 Winner" by the Alexandria Chamber of Commerce.
Tell us about the education grant you recently won.
As an assignment for graduate school, I entered the Farmers Insurance Thank A Million Teachers grant proposal contest to acquire technology for my first graders. The title of my proposal was "Expanding Access, Decreasing the Gap," because in winning I would be able to expand access to technology to underprivileged children (my students) as part of my school's effort to close the achievement gap in D.C.
The proposal caught traction and when I realized this, I began to mobilize people to start voting to support the effort. There were 600-plus proposals from 23 states. I finished in the top three (largely because of the support I had coming out of Pittsburgh especially Point Park's Twitter followers) with more than 4,500 votes and won a $2,500 grant.
How did you land your teaching position with D.C. Preparatory Academy?
I began my teaching career in Maryland's Prince George County. In one year, I was made the grade level lead, the science department chairperson and my students made double digit gains in reading. During this time, I also completed a professional development program at Georgetown University and wrote an implementation program proposal for incorporating East Asian studies into the main curriculum. This proposal ran in a national publication and opened the door for me to work at D.C. Prep, the highest performing network of charter schools in Washington, D.C.
I jumped at the chance to teach at D.C. Prep because of the challenging, unique experience it would offer. The achievement gap is a national crisis and should be a concern to everyone. It is exciting to be at the center of reversing those statistics and working with people who hold social justice in education as a core value. My school made 16 points of growth in reading last year, more than any school in the entire District of Columbia.
What are some of your favorite Point Park memories?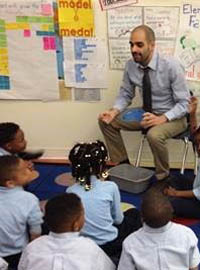 My favorite memories of Point Park are of being in the Green and Gold Society. I was a member of the inaugural class, and this was a very exciting thing for me. It was an invaluable experience to be the first to take part in special events on campus and in the city, representing Point Park. I will always value the opportunities I had to share with people how amazing this University's students and faculty truly are.
In what ways has Point Park helped you achieve where you are today?
My teaching career has been fast tracked largely because of the quality of the education program at Point Park University. The nature of my student teaching evaluations at Point Park gave me an edge over other first-year teachers and ultimately, led to the unlikely promotions and success of my first year. Not many people can hit the ground running on their first day in the real world. Point Park made sure I was ready to do so.
What are your career goals?
After I complete my graduate program at George Mason University, my goal is to eventually work for the U.S. Department of Education. There I hope to land a position supporting policy development, social justice in education and education reform.
More About: education, elementary education, alumni, success story