more news
Elementary Education Students Study Abroad at the University of London
Wednesday, July 24, 2013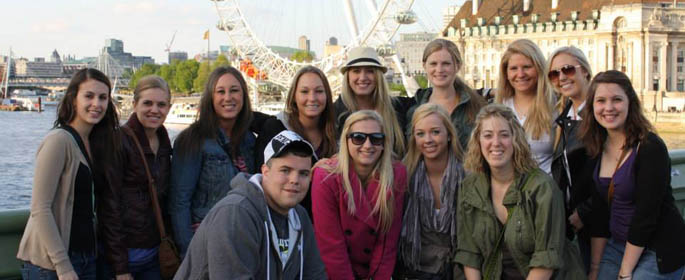 Thirteen Point Park education students majoring in Pre-Kindergarten through fourth grade education recently spent two weeks studying abroad at the University of London's Institute of Education.
Darlene Marnich, Ph.D., professor and chair of the education department, and Amanda McGuire, community director of campus life, joined the students on the trip.
Between classes, the Point Park group toured some of London's primary schools and visited a variety of sites including Shakespeare's Globe Theatre, Windsor Castle, St. Paul's Cathedral, Buckingham Palace, Tottenham Hotspurs Football Club Stadium and more. They also took a day trip to Bath, England and spent the weekend in Paris, France.
"I have always wanted to study abroad but being a student-athlete makes it difficult. So when this opportunity arose, I knew I couldn't pass it up," remarked education student Amanda Ardinger, who will be graduating this December. (Ardinger is a member of the Point Park women's volleyball and softball teams).
According to McGuire, who served as a staff chaperone, the trip was more than she could have ever expected for the students.
"Many say studying abroad is a once-in-a-lifetime opportunity, but I'm more of the stance that it's the start of a lifetime of opportunities. These students were exposed not only to educational experiences in their field, but also to the world of travel and exploration, something I'm certain will impact them for the rest of their lives," explained McGuire.

"Knowing that this trip has inspired others to travel, particularly education majors who will be able to influence students in a classroom, was my favorite part of the entire experience," added McGuire.
Touring primary schools in London was one of senior education major Holly Cardillo's favorite parts of the trip.
"The trip impacted me in so many ways. I was able to tour schools in London and compare their differences and similarities with schools in the United States," said Cardillo. "The whole experience was amazing."
Cardillo's career goal is to land a teaching job outside of Pennsylvania. "Point Park is helping me by making sure I am doing everything I can to succeed," she said.

Based on the 300-level course work they completed at the University of London and the tutoring they did this spring semester at Imagine Charter School in Penn Hills, Pa., the students earned six credits.

"My career goal is to work with children and change lives. If I can change a child's life for the better, then my goal will be met," said Ardinger.

After returning home from their trip, Marnich sent the students this inspiring message:

"Our journey was an amazing one. Our journey brought everyone the power to know that they could go anywhere and it brought a sense of love of traveling, of fellowship with students, of returning home safely at the end of the journey, of meeting new people, and of changing acquaintances to friends. And, it is true, that once you have explored a new facet of life, you have changed. And, I know, without any doubt that my fabulous 13 (and my terrific two) have changed, and just as important, have changed me for the better!"

The following education students went on the study abroad trip to London: Amanda Ardinger, Chelsea Balawejder, Emily Boehm, Kristen Bosworth, Holly Cardillo, Caitlin Comiskey, Alyssa Hall, Cassandra Kulp, Alaina Petrillo, Michelle Struhar, Nicole Sullivan, Joanna Weber and Ryan Sullivan.
More About: elementary education, study abroad, education