more news
Engineering Professor Oleksandr Dobzhanskyi Reflects on Experience Working at the National Renewable Energy Laboratory Through U.S. Department of Energy Visiting Faculty Program
Tuesday, September 6, 2022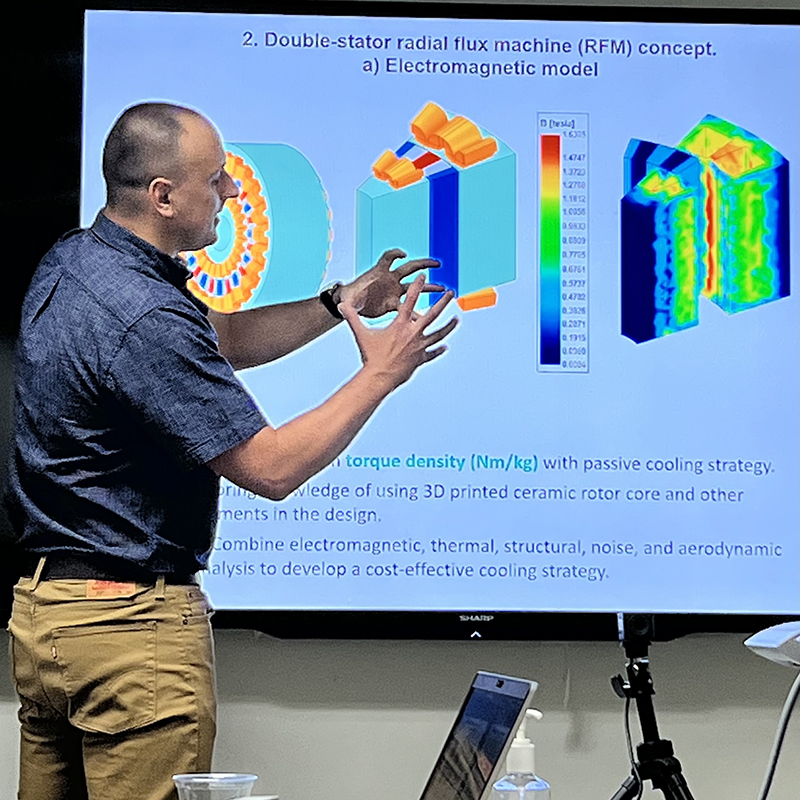 Oleksandr Dobzhanskyi, Ph.D., an assistant professor of electrical engineering at Point Park University, spent his summer working on impactful research related to sustainable energy and transportation at the National Renewable Energy Laboratory (NREL) at the U.S. Department of Energy through its visiting faculty program.
"My work concerned thermal management of innovative electric machines for sustainable transportation," said Dobzhanskyi, who has worked in the field of electrical engineering for more than 10 years. "I created designs using 3D computer modeling and experimentally investigated two electrical motors with dual core configuration, which involved ceramic elements for motor heat mitigation."
As a result of his efforts, Dobzhanskyi and a team of other experienced field researchers and scientists were able to develop an efficient design of the motor featuring lightweight and large-output power characteristics. The fragment of the motor was evaluated in the laboratory, which validated computer calculations.
"The outcomes of the project broaden existing knowledge on electrical systems used in sustainable transportation, power generation and electric vehicles," he said. "The findings will lead to new discoveries in the field of electrical engineering."
Dobzhanskyi's experience will no doubt apply to the lessons he teaches in class, especially those focused on electrical power. He said the achievements and challenges of the project will be discussed during his courses at Point Park. His instruction in such classes as Electric Power, Power Electronics and Circuits will be enhanced with the knowledge he gained at the NREL.
"The experimental motor setup traveled with me from Denver to Pittsburgh, so students will be able to use the motor prototype in the classroom," he said. "I learned new research methodologies which are practiced by the NREL. I have also mastered my hands-on skills using the advanced laboratory equipment and software. I gained a tremendous confidence to continue the research and bring it to my classes at Point Park."
Learn more about Dr. Dobzhanskyi and Point Park's electrical engineering program in the stories linked below:
More About: electrical engineering, faculty research, faculty, faculty presentation, School of Arts and Sciences