more news
English Program Gave Alumna a Solid Foundation for Law School
Wednesday, April 10, 2013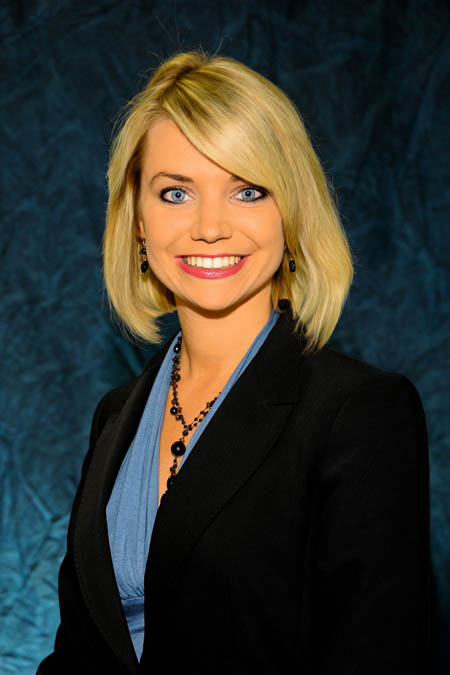 Meet Elizabeth (Bliss) Soucek, Esquire
Job title: Attorney
Employer: Sergovic, Carmean & Weidman, P.A.
Degrees earned: Bachelor of Arts in English from Point Park University; Juris Doctorate from George Mason University School of Law
Graduation years: 2007 and 2010
College Activities: Honors Program, Community Outreach Partnership Centers, Big Brothers/Big Sisters of Pittsburgh and Community Classes (ballet)
Hometown and current residence: Milford, Del.
High School: Milford High School
Interests/hobbies: Teaching ballet, serving as a board member and legal counsel for the Miss Delaware Scholarship Organization, reading, taking trips to the beach, spending time with friends and family and hanging out with my Morkie puppy, Rocky
What inspired you to pursue a career in law?
I decided in the eighth grade that I wanted to be a lawyer. My civics teacher held a mock trial and I volunteered to be the prosecutor. I enjoyed the idea of interpreting the Constitution and legal doctrines, arguing a point and helping others. As the years progressed, I continued to seek a career in the legal field (specifically family law) due to the fact that I wanted to challenge myself intellectually, while aiding families in peril in the community where I was raised. I did not pursue law for the financial benefit, but for the personal and professional satisfaction that it brings.
What factors encouraged you to choose Point Park's English program?
Interestingly enough, I came to Point Park for the dance program. I was a dance major (with a ballet concentration) my freshman year. I planned to double major eventually, but I enjoyed my English courses and my other academics so much that I decided to change my major during my sophomore year to English and to continue on with my plan to apply to law school. I particularly enjoyed the small class sizes, which allowed for more group literature discussion, and I was excited to learn from the many accomplished professors in the English program.
Please describe your experiences with Point Park's English professors.
I was extremely fortunate at Point Park to have wonderful professors who encouraged me and helped me to grow. Dr. P.K. Weston in particular helped me to develop my talent for writing, and hone my skills in the area of literary analysis. All of the professors I was privileged to learn from in the English program were passionate about their subject matter, and about their students. They pushed me to stretch myself, and to embrace different genres of literature I was previously afraid to explore. I use their lessons to benefit me in my career today, as legal drafting and writing is such a significant part of practicing law.
How has Point Park played a role in where you are today?
Point Park gave me a solid foundation to build upon when I went to law school. I learned how to develop a study schedule and stick to it, which was invaluable later on. The rigor of the Honors Program in particular prepared me for law school, and for the commitment to academics necessary to be successful in my field. One experience in the Honors Program I will never forget was the opportunity to attend the Pennsylvania Conference for Women, where I was privileged to hear the first female Supreme Court Justice, Sandra Day O'Connor, speak. While at Point Park, I was also able to interact with children in need through the Big Brothers/Big Sisters program, which motivated me to pursue becoming an attorney Guardian ad Litem (GAL) through the Office of the Child Advocate in Delaware.
What advice do you have for women pursuing careers in law?
It is important to always stay the course, and not to allow the outside opinions of others influence you. If you have the drive, motivation and determination to be successful in this field, you can make a difference, and have a challenging, rewarding career. My law school class was split 40 percent women and 60 percent men, but I never allowed the gender gap to phase me. I had a path in mind, and I was focused on my ultimate goal, which was to become a family law attorney.
Upon graduation from law school, I received an award from the Virginia Bar Association for being the student who showed the most promise and potential in the area of family law, and I am proud to have developed a growing family law practice today. I am blessed to work with two other female attorneys at the firm where I work, who practice real estate law and estate planning, respectively, which goes to demonstrate that women can excel in any area of law they choose to pursue. My advice would simply be to work hard, have a clear goal in mind and make it a reality.
Is there anything else you'd like to add?
I would encourage any and all prospective students to attend Point Park University, as it is a wonderful place to learn and to jump-start your career, whatever path you may choose.
More About: alumni, success story, Department of Humanities and Human Sciences, English, Honors Program