more news
Excellence in both academics, athletics sets Roddy apart
Friday, April 16, 2010
As a star high school athlete, Rachel Roddy was taking part in an all-star volleyball match her senior year when one of the referees approached, introducing himself as Point Park coach Mike Bruno.
"He asked if I was looking at schools and asked if I wanted to come visit," she recalls.
Roddy, also an academic standout at Greensburg Salem High School, followed up with a trip to campus, loved what she saw and decided Point Park was the place to pursue her twin goals -- becoming an elementary school teacher and playing sports at the college level.
Related links
Point Park's education programs
Point Park athletics
Now a junior, Roddy has blossomed into a star student and a star athlete with a record of academic and athletic excellence that sets her apart.
She has a 3.93 GPA in the University's rigorous elementary education program, has made the dean's list every semester, and holds a Presidential Scholarship, the highest award Point Park gives.
On the athletic side, Roddy is a three-year starter and all-conference right-side hitter on the women's volleyball team and played a leading role in the team's best-ever season during 2009-2010. A basketball star in high school, she also joined Point Park's team this year and quickly became a key reserve forward.
Beyond academics and athletics, Roddy takes part in a youth-mentoring program and is involved with Point Park's student-athlete council.
Her success in academics and athletics requires careful juggling of coursework -- including hours and hours of classroom observation and fieldwork required of education majors -- with team practices and games for both volleyball and basketball.
"It takes a lot of time management," says Roddy, who played three sports in high school. "It's a lot tougher in college - there's a lot more expected of you."
She credits her professors for creating an energetic and supportive environment to help her - and other students - meet the challenges.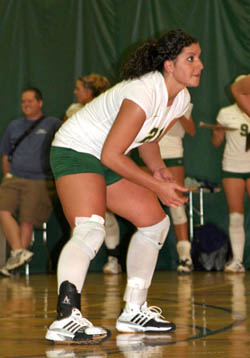 "The faculty members just have this enthusiasm about the education program," Roddy explains. "You can really tell they want you to succeed."
Prof. Darlene Marnich, chair of Point Park's education department and the University's faculty-athletic representative, describes Roddy as a smart, personable and hardworking student who will make a terrific teacher because she loves learning and values each and every child.
"I truly believe Rachel will be that kind of teacher who makes all of the kids feel like they are the most special people to her, which inspires them to achieve," Marnich says. "She will be the teacher that kids remember years and years later."
The Point Park Athletic Department described the same qualities, from an athletic perspective, in nominating Roddy for a Sportswoman of the Year honor from the Westmoreland County YWCA, an award she won in February 2010.
"She is a leader on and off the court, and she is the type of young lady that every coach wants on their team," Bruno wrote in support of the YWCA nomination. "She will be a great teacher, and whatever school district gets her will be really lucky that she is working with the kids of that area."
After she graduates, Roddy plans to start a master's degree in education at Point Park, and perhaps be a graduate assistant working with the volleyball team. When she finishes the master's, Roddy plans to take her Point Park education back Westmoreland County and find a job as a teacher and coach.
"I would recommend this school to absolutely anyone and everyone," Roddy says of Point Park. "I love it. I honestly can say I couldn't see myself anywhere else."