more news
Faculty Feature: Meet Oleksandr Dobzhanskyi, Ph.D., Assistant Professor of Electrical Engineering
Friday, February 5, 2021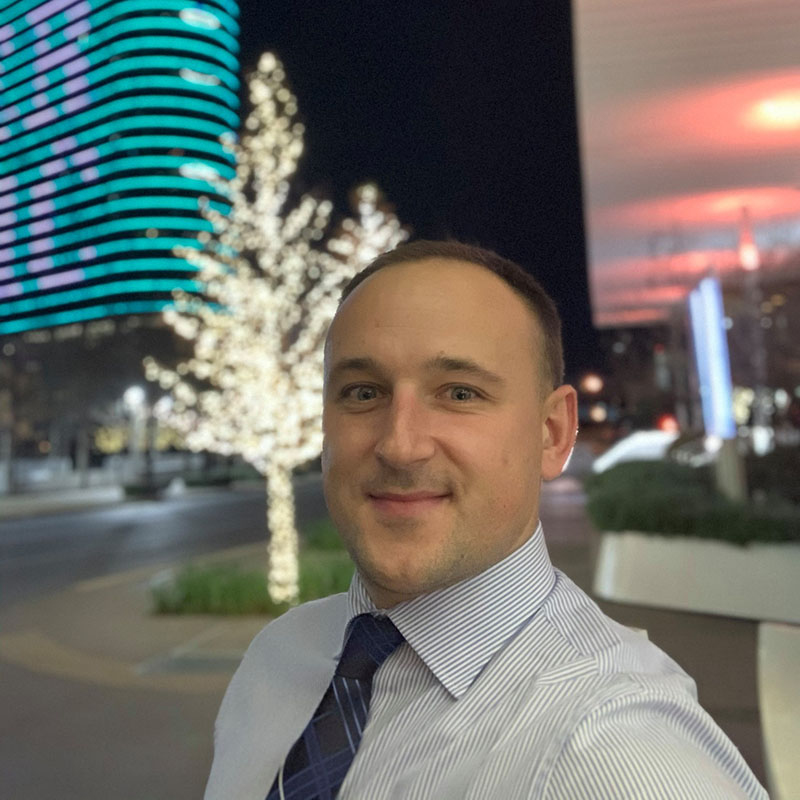 Oleksandr Dobzhanskyi, Ph.D., is a new assistant professor of electrical engineering in the Department of Natural Sciences, Engineering and Technology. Dr. Dobzhanskyi teaches courses in electrical circuits, power system analysis and power distribution systems. 
Prior to joining Point Park, Dr. Dobzhanskyi taught as an assistant professor at the Oregon Institute of Technology and the American University of Iraq. Other previous positions included visiting professor at the Universidad de Ingeniería y Tecnología in Lima, Peru and teaching assistant at Louisiana State University. He was a research associate at the Oregon Renewable Energy Center (OREC), research assistant at Louisiana State University and held a postdoctoral fellowship at North-West University in Potchefstroom, South Africa.
In the Q&A below, learn about his decision to come to Point Park, his teaching style and advice for students.
What drew you to studying electrical engineering?
I wanted to make a change and convert green energy such as wind, wave and hydro into electrical energy.
Tell us about your professional experience and how you incorporate it into the classroom.
I always align the material in class with real-world applications. Very often I tell my students about the most recent developments in electrical engineering, what problems currently exist and how important it is to solve these problems. I am active in research, and this helps me to keep my teaching on the cutting edge. After each conference I visit, I rush to class to tell my students about the most recent advancements in the field.
How would you describe your teaching style?
The problem is introduced in class, the importance of the problem is emphasized, the solution is proposed, the solution is verified and the solution is applied.  
What factors made you choose to teach at Point Park?
The location and ambitious mission of the University drew me to Point Park. In Pittsburgh, science is circulating between steel production and space technology. There are plenty of companies which can work together with the University to produce qualified engineers. Strong relationships between the University and local companies definitely influenced my choice to teach here for a long time. 
You're new to Pittsburgh. What aspects of the city are you most excited to explore?
I am most excited to explore the cultural aspects of the city. I plan to visit many museums, galleries and exhibitions in the near future. Pittsburgh has a lot to show! I also dream of attending a Penguins vs. Washington Capitals game!
You've taught and received education at a variety of places all over the world, including Peru, Iraq, South Africa and Louisiana. Which destination has been your favorite and why?
Pittsburgh is my most favorite place. This is my home. The first house I ever bought is our house in Pittsburgh. This tells the answer. 
What career advice do you have for our engineering students?
Do as much as possible in school. Pass the Fundamentals of Engineering exam, participate in at least one internship program and focus on your Professional Engineer license.  
What inspires you?
My childhood inspires me. I was born and raised in a very poor family in a small village. It was a difficult time because I was raised by just my mother. Now, I am proud that I can bring my mother to any place in the world, and we can enjoy great times together.
I am also inspired by my wife and daughter, every day, every minute, every second. 
What are your hobbies or other interests?
I play guitar. I like rock 'n' roll music. I read a lot. Currently I am reading Charles Dickens' "Hard Times." I strongly recommend it!
More About: faculty, School of Arts and Sciences, faculty research, electrical engineering