more news
Faculty Profile: J. Kaye Cupples, Special Education
Friday, August 26, 2011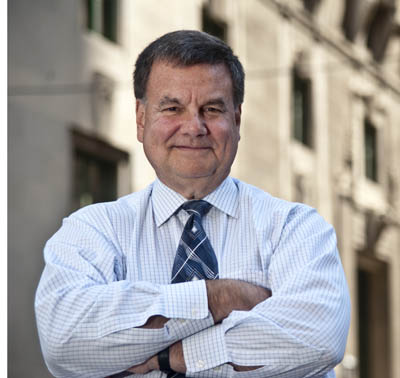 Before joining Point Park's faculty in 2008, J. Kaye Cupples, Ph.D., associate professor of education at Point Park University, worked 35 years for Pittsburgh Public Schools in a variety of teaching and administrative positions-including most recently as executive director of special education and student services. He also served as an adjunct professor in the deafness/hard of hearing education department at the University of Pittsburgh.

In an interview, Cupples talked about his extensive background working in the special education field, as well as the special education programs Point Park offers for undergraduate and graduate students.
How would you describe your experiences working in both administrative and teaching roles for the Pittsburgh Public Schools?
My first love is teaching kids with disabilities, particularly those who are deaf and those with sensory impairments. However, working in administrative roles gave me the opportunity to provide leadership to schools on various issues surrounding inclusive practices.
What classes do you currently teach?
I teach Special Education Inclusive Practices at the undergraduate and graduate levels, as well as a graduate course in Case Studies in Special Education Law. I like teaching these courses because I get to meet the special education majors right away and can help shape their view of the field.
How do you incorporate your years of experience into the classes you teach?
Working for the Pittsburgh Public School District has allowed me to emphasize to students the importance of appreciating diversity of all kinds. I'm able to bring Point Park students information that is not in their textbooks, such as a local perspective on both federal and state rules and regulations in special education. Based on my experiences over the years developing programs for kids with disabilities, I can also talk about what works and what doesn't.
What kinds of hands-on projects do you include as part of the course work?
Every special education course at Point Park offers field experience. For example, in our 14-week course titled "Autism Spectrum Disorders," students spend four of the weeks at The Watson Institute. Field experience is really important, as it provides students with real-life learning outside of the University classroom.
What makes Point Park's special education program unique?

We give students face-to-face guidance, semester by semester or more often if needed. If students are having trouble, we (faculty) invite students to meet us for a cup of coffee to discuss the individual components of the special education program. Also, Point Park's connections in the community and its Downtown Pittsburgh location allow students to easily get hands-on experience in the field. Students are only a bus ride away from places like Pressley Ridge, Western Pennsylvania School for Blind Children and The Children's Institute, among many others.
Based on this field experience, students really begin to see themselves as teachers and can make decisions about what area of special education they want to focus on. In addition, the dual certification option we provide for students is very cost effective. It can make them a better teacher overall and also more marketable to school districts.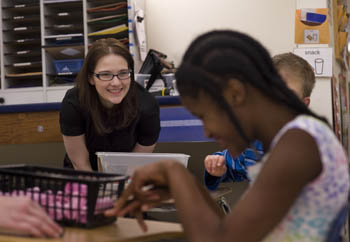 As part of her field experience in special education, a
Point Park student works with young children at
The Watson Institute
.
Please tell us about the Master of Special Education program beginning this fall.
This 36-credit, graduate program is designed for both teachers in the field as well as full-time students who did not focus on special education in their undergraduate education program and now want to be dual-certified. Classes are offered on Saturdays and evenings and incorporate extensive field experience.
What advice do you have for prospective students considering the special education field?
First and foremost, you need to have a solid background in education as well as a strong overall understanding of how typical kids learn. It's also important to think of all students as learners regardless of what they bring to the front door of the classroom. I encourage my students to specialize in a particular area of special education. I tell them to follow your passion and see where you can make the biggest impact.