more news
Faculty Profile: Jill Thomas, Ph.D., Discusses Her Passion For Clinical Psychology
Tuesday, November 15, 2016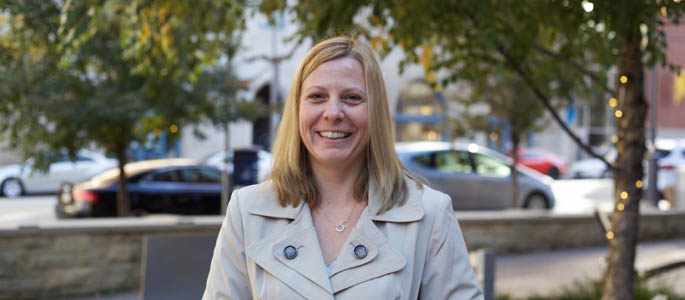 Licensed psychologist Jill C. Thomas, Ph.D., recently joined Point Park University as an associate professor of psychology and director of clinical training in the M.A. in clinical-community psychology program. Prior to Point Park, Thomas had a private practice called "Alive and Thriving: Psychological Services for Your Well-Being" in Temple Terrace, Fla., in which she provided individual and couples therapy from a humanistic framework. She also worked as a clinical psychologist providing outpatient services at a VA community-based outpatient clinic and VA home-based psychological care in Tampa, Fla.
What inspired your passion for psychology?
I wanted to be a clinical psychologist from almost as far back as I can remember. I think I have always been attuned to the feelings of others and fascinated with trying to understand what makes people tick.
After my undergraduate studies, I began work as a case manager at a community mental health center where I helped those diagnosed with severe and persistent mental illness to create and sustain a life in the community. This is where my passion for psychology really flourished and fueled my pursuit of a doctoral education in clinical psychology. Working with these folks led me to see first hand the innumerable strengths, courage and wisdom of those often banished to the fringe of society.
This work also made clear to me the injustices done by social systems that disempower and disenfranchise people and often create the experience of "illness" to begin with. I realized the importance then of rejecting a view of people as "mentally ill," and instead, focusing on the way each person creatively, if not also problematically at times, navigates his or her unique life circumstances, including the social structures within which we all exist.
Why did you decide to move to Pittsburgh and teach at Point Park?
I left sunny Florida and relocated to Pittsburgh to teach at Point Park specifically because of the very exciting opportunity to participate in creating the Psy.D. in clinical-community psychology that will be starting at Point Park in the fall of 2017. In my view, the field of psychology is desperately in need of a program like ours, and I am excited to train the next generation of clinical psychologists at Point Park.
Tell us about your research interests.
My writing and scholarship is always driven by my passion to explore and address the unnecessary suffering experienced by individuals as a result of their cultural context as well as the dilemmas clinicians face when trying to assist people within their contexts.
As such, the topics of my work have varied widely from suicide prevention to the role of culture in disordered eating to the problematic aspects of the culture of medicine to psychological constructions of pornography use. My primary interest is in exploring problematic cultural constructions of life's struggles, examining the dilemmas these create for people and therapists and expanding upon an alternative, humanistic-constructivist understanding of these struggles.
Describe your teaching style.
My approach to teaching is based on my belief that the best kind of learning - learning that is inspired and transformative - occurs through active engagement in the process. In my view, the best teachers are engaged teachers who create a learning environment that encourages students to choose to psychologically invest in the process of learning.
Consistent with my humanistic philosophy, I also believe the optimal foundation for learning is an environment in which students feel comfortable and safe to express themselves, to ask questions and to make mistakes. In an effort to create a safe learning space, I aim to be warm, respectful, encouraging and nonjudgmental, and to facilitate the same kind of interactions between students.
What advice do you have for our undergraduate and graduate psychology students?
One of the best skills you can learn in undergraduate and graduate studies is how to be an informed consumer of information or in other words, how to truly digest the information you receive. Truth is rarely absolute in life, though information or "knowledge" is often presented as if it is "The Truth." The ability to think critically, to first understand and then question or challenge the fundamental assumptions of the "truths" you are given is essential for thoughtful advancement of our culture. An empowered person is one, in my view, who approaches life's "givens" with a questioning, curious and critical eye.
Favorite quote?
"I don't say he's a great man. Willie Loman never made a lot of money. His name was never in the paper. He's not the finest character that ever lived. But he's a human being, and a terrible thing is happening to him. So attention must be paid. He's not to be allowed to fall in his grave like an old dog. Attention, attention must finally be paid to such a person." — Arthur Miller, Death of a Salesman

Photo by Olivia Ruk, a senior mass communication major
More About: School of Arts and Sciences, Psy.D. in clinical-community psychology, psychology, faculty, M.A. in clinical-community psychology, faculty research