more news
Faculty Profile: Kirstin Hanley, Assistant Professor of Composition and Rhetoric
Thursday, December 5, 2013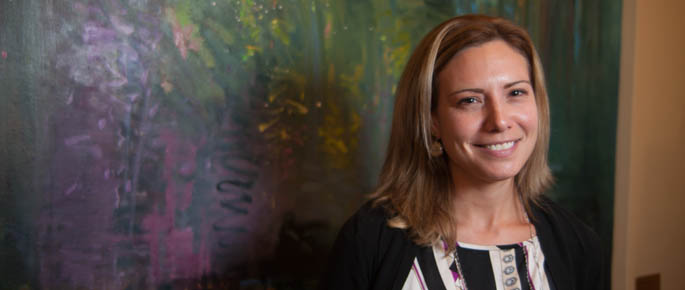 Kirstin Collins Hanley, Ph.D., joined Point Park University in fall 2013 as an assistant professor of composition and rhetoric in the Department of Humanities and Human Sciences at Point Park University. Before Point Park, she was an assistant professor at the State University of New York at Fredonia. Hanley's research focuses on the intersections between proto-feminist literatures and composition studies.

What brought you to Point Park University?
I wanted to contribute to a dynamic and vibrant academic community where students are provided with multiple opportunities to develop strong writing skills, which are central to success in the 21st century workplace. I found the range of courses offered by Point Park's writing program - a composition sequence, studio course and writing center tutorials - to be an excellent model.
What are your areas of research interest?
My research examines the intersections among composition studies, women's studies, and 18th Century Literature. My focus on proto-feminist rhetoric in particular has informed my teaching philosophy in a variety of ways.
Describe your teaching style.
Integrated and collaborative. Course readings speak to the challenges students will experience as writers in an academic setting, and - in turn - students are asked to explore and reflect upon our readings as a strategy for developing critical thinking skills. Students are invited to teach and learn from one another as they share their insights about relevant, self-selected topics that engage or perplex them.
Why is it important for students to have a solid foundation in English composition?
English Composition I and II promote writing skills that are central to students' academic careers as they transition into courses in their majors. First-year writing courses also provide an important introduction to the University community and the many opportunities for critical engagement that are available to students at Point Park. And, most important, composition courses invite students to imagine themselves as writers who can contribute in meaningful ways to conversations in their future fields or professional settings.
More About: English, faculty, Department of Humanities and Human Sciences