more news
Faculty Profile: Meet Megan Ward, Assistant Professor of English
Wednesday, May 23, 2012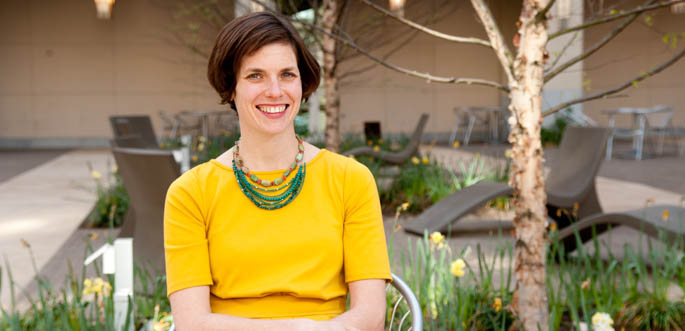 Assistant Professor Megan Ward, Ph.D., studied English at Lawrence University, the University of Oxford, and Rutgers University - earning a Bachelor of Arts, a Master of Philosophy, a Master of Arts, and a Doctor of Philosophy. Her research interests include the history of the novel and the Victorian period. Three years ago, Ward helped launch Point Park's Annual Undergraduate Humanities Symposium and this year, she was selected to give the University's annual "Leonard Finkelhor Lecture," in which she presented on the topic "Realism and Robots: The Victorian Novel and Cybernetics."
Who inspired you to study English?
I had a fantastic mentor as an undergrad, someone who continues to inspire me in my research and my teaching. I hope to be that person now in my own students' lives, to inspire them to read voraciously and think deeply - and to find these things fun as well as rewarding.

What have been some of your favorite experiences so far at Point Park University?
I like getting to know my students personally, and Point Park is small enough that I often meet one-on-one with my students, help develop their ideas, and guide their research. I'm also really happy to have found some fantastic colleagues.
What classes do you teach?
Victorian Poetry and Prose
Literary Criticism
Introduction to Prose
Romanticism
World Literature II
English Composition
Also, in the fall I'll be teaching a new class called "Digital Humanities," which will combine digital tools and techniques with the study of literature.
What types of projects can students expect to work on in your classes?
This past semester in "Victorian Poetry and Prose," we worked on object analyses, where students research an object that appears in a text and then analyze how understanding that object better changes our interpretation of the text. Though different classes have different assignments - traditional essays, research papers, daily responses - they all depend on analytical writing, which I believe helps students develop important critical thinking skills.
What internship and career opportunities are there for English majors?
There are internship and career opportunities in the non-profit world, corporate communications, fundraising, grant writing, teaching, and any workplace that values independent thinking, analysis, and writing. I think that students with an English degree are prepared not just for a single job but also for a long career. They don't simply learn certain skills but actually learn to think for themselves.