more news
Faculty Profile: Meet Vincenne Revilla Beltran, Ph.D., Professor of Education
Wednesday, July 9, 2014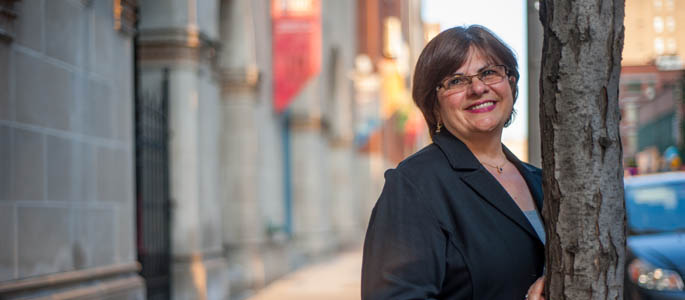 Professor Vincenne Revilla Beltran, Ph.D., has more than 40 years of experience in education working in a variety of roles. She is a Pennsylvania Licensed Counselor and a National Board Certified Coach. Revilla Beltrán regularly serves as a professional consultant to school districts, colleges, universities and accreditation agencies and has received more than $2 million in grants for programs, projects and initiatives.
Why did you originally decide to pursue a career this field?
I always knew I wanted to teach, however, I never planned to stay in education as long as I have. Many different circumstances led me to where I am today. My educational background is rather eclectic (psychology, behavioral science, counselor education, business) and my professional experiences are widely varied.
I have always enjoyed my work with students and I love working in an academic environment where there is always something new to learn and things are always changing. I have seen a great deal of change in educational practice over 40 years. There used to be predictable ebbs and flows in the academic year but now, there are constant changes due primarily to rapid advances in technology and increased accountability at all levels. Today, we live and work in a fast-paced environment and academia is no exception. Although I enjoy working in this ever-changing environment, the most rewarding aspect is working with students.
What are your key research interests?
I have a lot of research interests and they keep expanding. Special areas of interest include: adult learning, online teaching and learning, human diversity issues, cultural dimensions of education, mindfulness applications and dialogue. I have an active consulting practice and have presented hundreds of lectures and workshops at professional conferences as well as for private, profit and nonprofit organizations and schools. I have visited and consulted with universities and schools in Mexico, Peru, Puerto Rico, Spain, Ireland and England. My sabbatical work included training university professors and school teachers in Spain. My next sabbatical research will focus on the impact of emerging technologies on education and training.
Tell us about the online courses you teach at Point Park.
I started working in online education in 1999, when the field was emerging. Since that time, I have earned just about every certification available in online learning because I wanted to implement best practices based on research in the field. When I started teaching online, it was necessary to develop new instructional skills to engage students using new technologies including virtual world learning platforms. I teach a variety of courses online and recently developed a new course on how to teach online. This has been quite popular with graduate students and faculty. As online learning continues to grow, I want to stay current with research-based practices so that I can do my best when working with my students.
What do you enjoy most about teaching at Point Park?
The most rewarding part of teaching at Point Park is helping students to develop their potentials by giving them safe and challenging opportunities in and outside of the classroom. Some of the most valuable lessons in my teaching career have resulted from my time in the classroom with students.
Describe your teaching style.
Part of my teaching philosophy includes the belief that the courses belong to the students; I am in the classroom to guide and challenge. I am in the classroom to help students learn how to think not what to think. There is very little time spent on lecture in my classes. Students spend a lot of time in structured exercises and discussions where they are engaged with each other and the content. Fortunately, I can incorporate my counseling and coaching skills into my work with students; I believe these skills have enhanced my teaching.

What advice do you have for our students pursuing careers in education?
Enter the field with passion, a lot of energy and teach with heart. You have to keep up with research in the field and constantly update your skills and knowledge by engaging in ongoing professional development. Teaching is extremely challenging but also very rewarding. Students deserve no less than the best from us. Be yourself and enjoy the ride.
More About: faculty, research, education, M.A. in curriculum and instruction