more news
Faculty Profile: Step Back in Time with Historian Jehnie Reis
Friday, October 21, 2011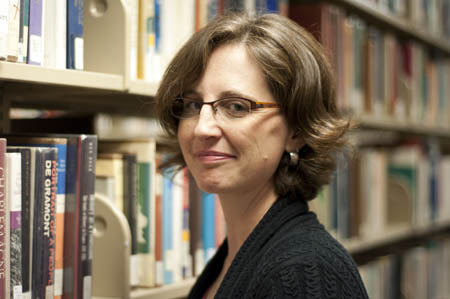 Photo by Matthew Brudnok, photojournalism major
Visiting Assistant Professor Jehnie Reis, Ph.D., joins Point Park full time, teaching history in the Department of Humanities and Human Sciences. Prior to Point Park, Reis taught French-American relations and accelerated academic writing at the University of Virginia. She also worked at the Boulder Historical Society in Colo. and studied abroad at the Université de Paris IV.

Reis earned a Bachelor of Arts degree in history and French from Tulane University and a Master of Arts and doctoral degree in Modern European History from the University of Virginia.
Why did you choose to teach at Point Park?
I liked Point Park's strong focus on teaching and its diversity of students. I can more easily introduce new ideas here and personalize my classes so that they are more dynamic and apply directly to the students' interests.
What classes do you teach?
20th Century Europe
History of the Modern Middle East
Women in Global Perspective
Elementary French




Introduction to the Study of History
How do you bring history classes to life for students?
In all of my classes, I have the students relate to history on a personal level by allowing them to write what they are passionate about. Rather than having students just focus on timelines and take lecture notes, I encourage a more fun, dynamic setting by using literature and people's stories. I like my students to think of history not just as written documents but also as audio and visual documents and artifacts.
What internship and career opportunities are there for history majors?
Internship and career opportunities exist all over the region in libraries, museums and historical societies like the Heinz History Center and the Carnegie museums. Government offices also like historians because they know how to organize their thoughts, do research and write well.
What advice do you have for prospective students considering a history-related career field?
Be willing to think outside the box and decipher ways you can use the skills you learn in the classroom in diverse ways. Find an historical subject you are passionate about - whether it is the history of the Middle East or the history of Pittsburgh - and delve into that area. And if you have a chance to study abroad, do it. Travel is a great way to understand something outside of yourself, both from the perspectives of a different time and place. Also, the experience with different languages when studying abroad is very beneficial.