more news
Faculty Q&A: Rachel Battaglia, Psy.D., Visiting Assistant Professor of Psychology
Tuesday, November 14, 2023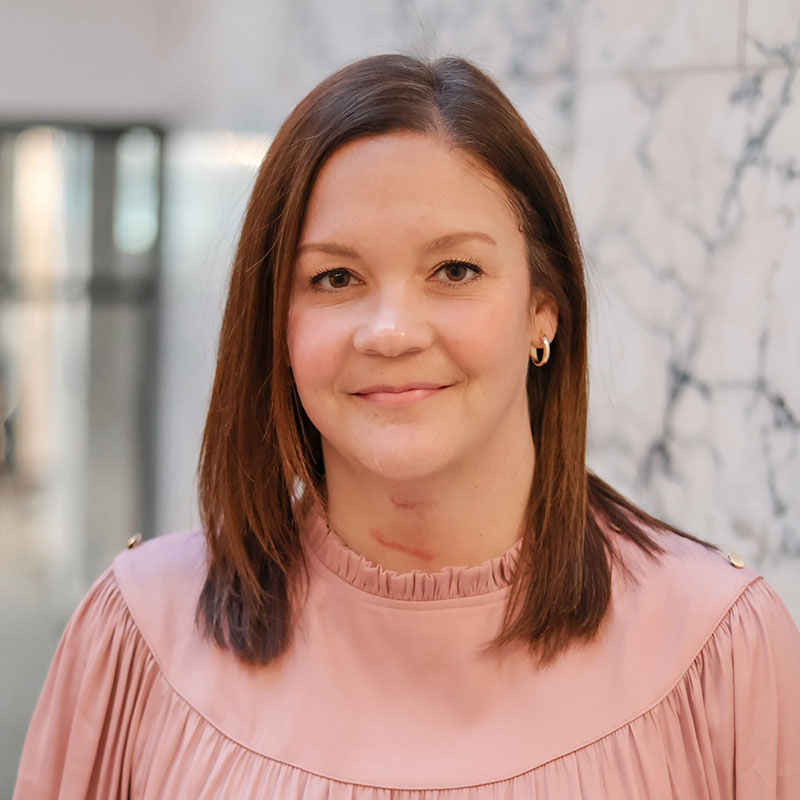 Photo by Natalie Caine '25
Bringing a wealth of clinical experience and classroom expertise, Rachel Battaglia, Psy.D., joined Point Park University's School of Arts & Sciences in the Department of Psychology this year to teach a variety of courses at the doctoral level. 
She holds a Master's of Professional Counseling and Doctorate of Counseling Psychology and completed an APA-accredited internship in clinical psychology (child-focused) at the Allendale Association/The Bradley Counseling Center in Lake Villa, Illinois. Dr. Battaglia also completed an APPIC-accredited postdoctoral fellowship at University of Arkansas Medical School/Arkansas Children's Hospital in Pediatric Psychology in Little Rock, Arkansas.
The bulk of her clinical experience has been with high-risk/low-income children and families in either community or pediatric hospital settings. Her research interests include behavioral and somatic symptoms of stress, ethics in psychology and training and health/pediatric psychology.
Learn more about Dr. Battaglia in the Q&A below.  
What drew you to a career in psychology?
I have always known that I wanted to find people who need help when they are struggling and that I wanted to provide that assistance. Helping the most vulnerable people in our community has always been the most rewarding work for me and where I have had the most success.
Briefly describe your professional experience.
Most of my clinical work has been with children living in residential settings or pediatric hospitals who have significant mental health concerns or primary medical conditions. Over the past few years, I decided to focus on training and teaching others how to work with this population and began to spend more and more time teaching and supervising. Most recently, I decided to transition to full-time teaching.
What do you like about Point Park University?
Point Park has been incredibly welcoming. The students at Point Park are not just focused on their education but on bettering the community they live in and the larger community as well. It's inspiring.
What do you want students to know about your teaching approach?
While my primary approach to teaching is lecture-based, I try to capitalize on the social aspect of a classroom to invite all students to interact with me and participate in class in whatever way they are most comfortable. My goal is always to make students feel comfortable and competent. I feel it is my personal responsibility to provide the best learning environment possible and the students' responsibility to put forth effort each time they come to class.
What are your hobbies and interests?
I am an avid reader of fiction and a big fan of my cat, Helen. I have a huge picture of her in my office; anyone is welcome to come admire it.
What makes Point Park's psychology programs distinctive from other universities?
Point Park does psychology a bit differently than other universities by approaching it from a humanistic perspective. It's not to the exclusion of other views on psychology – we certainly study all of those as well – but there is an underlying focus on the unique and lived experiences of the individual. Today, this focus is often lost in a medicalized world, which underscores its importance. In the doctoral program in clinical psychology in which I am currently teaching my courseload, this approach is evident in our focus on the whole person and the community-focus we often emphasize.
Anything else you would like to add?
A quote I have always liked is from Alfred Adler, a humanistic psychologist: "Follow your heart, but take your brain with you."
More About: M.A. in community psychology, School of Arts and Sciences, psychology, Psy.D. in clinical psychology, faculty