more news
English Instructor Nominated for Science Fiction and Fantasy Poetry Association Award
Tuesday, July 27, 2021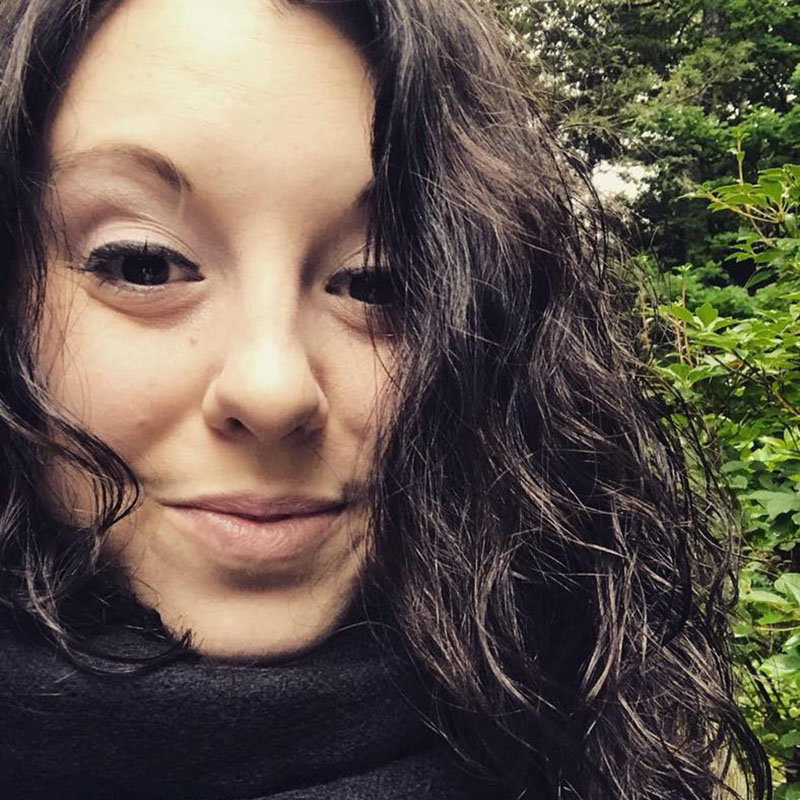 English adjunct professor and Student Success Coordinator Stephanie M. Wytovich lives and breathes writing horror. 
A few years ago, when she wrote a poem titled, "The Apocalyptic Mannequin," the name haunted her, and she realized a single poem wasn't enough to delve into her concept of the many ways the body shifts, transforms and mutates in times of stress, war and trauma. 
"Once I jumped in, I just couldn't get out," she said. "It had me." 
Ninety poems later, Wytovich's dystopian horror poetry collection, "The Apocalyptic Mannequin," is nominated for the Science Fiction and Fantasy Poetry Association's Elgin Awards, which recognizes the best books and chapbooks published in the genres in the last two years. The collection is a chilling perspective on the body after life.
"It's probably one of my favorite books that I've written because it made me so uncomfortable," Wytovich said. "It deals with a lot of potentially real-life situations that could happen. That type of horror always hits a bit different than if you're writing about aliens or imaginary monsters. That made it a fun but scary topic to explore."
The collection was also nominated in 2019 for a Bram Stoker Award. Wytovich's work has been showcased in numerous horror-related publications, such as "Weird Tales," "Nightmare Magazine," "Year's Best Hardcore Horror: Volume 2" and "The Best Horror of the Year: Volume 8." She is the poetry editor for Raw Dog Screaming Press and a mentor with Crystal Lake Publishing. 
In the Q&A below, learn more about Wytovich as an author and teacher. 
How do you incorporate your real-world experiences as a writer into your courses at Point Park?
I've taught English Composition, Introduction to Literary Studies, The Art of the Short Story and a Witch Literature class here at Point Park. My biggest goal as a teacher is to erase this gap between literary and genre. They always seem to be at war in some way or another, and I want to show how all of them can exist in the same world and how, more often than not, there is an intense crossover. What I'm trying to do as a professor is bridge that gap and introduce students to classic writers but also contemporary writers who are pushing those boundaries to show how these books and these authors can live in both worlds. 
Recently, I've been bringing in a lot more translated works to the classroom, and I introduce students to a lot of female horror writers who have faded into the woodwork for a lot of different reasons. I like talking about how their work was influenced by sociopolitical things that were happening, like the feminist movement, to show how these stories are attached to the real world. A lot of students tend to resist when I say we're going to read horror stories, but, often, students are pretty excited about it.
Horror can be a lot of different things. I think people hear "horror," and they automatically think of Michael Myers and Jason Voorhees, but it doesn't always have to be that. Pushing students to get out of their comfort zone and recheck their bias a little is always something that's really great to do because that's when the most growth and development happens as a person and a reader.
What makes our English program stand out from that of other universities?
I truly feel supported at Point Park because I've always been the weirdo everywhere I've gone, and I wear that with pride. What I do and research is a little odd at times, sure, but it's really cool to see that Point Park is accepting and encouraging of genre and speculative fiction and that they not only see and honor the work being done in fields like horror, science fiction and fantasy, but celebrate how it can contribute to the wider literary umbrella. 
One of the highlights of my career so far has been teaching my Witch Literature class. Point Park saw that there was interest and value in the material, and because of that, we were able to have transformative, powerful discussions about faith, religion, society and race. I've found that the students want to talk about those topics, and they want to be in a safe, inclusive environment where they aren't afraid to ask questions and can speak freely and know they will be supported. Point Park gives us that platform and allows us to have these sometimes difficult discussions. It's really powerful, and I'm grateful for that, and I know the students appreciate it, as well. It's always a good sign when class is over, but nobody is moving because we're so deep in discussion that no one wants to stop the conversation. It's a great feeling. 
What advice do you have for students who aspire to publish their own work someday?
Don't let anybody tell you what to write. If you feel like you have a story that's in you and you're passionate about it, then that's a story you need to tell. Don't worry about whether it is going to sell or make its way to "The New York Times Best Seller" list. Just write the story. You will enjoy the experience so much more, and people will enjoy it because you're passionate about it. 
Something else I'd say is to not be afraid to push outside of your comfort zone. You don't always have to write about what you know. It's actually better sometimes to write about what you don't know because then you have to do the research and form new opinions. Not being afraid to challenge things and push your boundaries is great, and a perfect avenue into that is literature and, better yet, horror. 
More About: English, creative writing, Department of Literary Arts, faculty, success story, School of Arts and Sciences