more news
Father's sacrifice inspires student to anti-terrorism career
Wednesday, February 24, 2010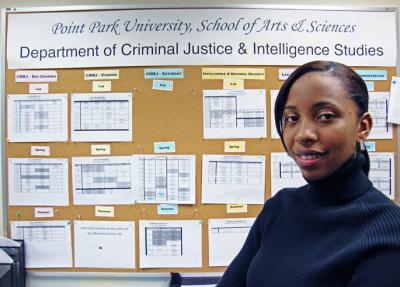 In January 2007, J'Nelle Lake suffered an unimaginable loss when her father was killed in a Black Hawk helicopter explosion while serving with the U.S. National Guard in Iraq. Just 15 years old at the time, her father's death has inspired Lake to dedicate her life to preventing terrorism.
She is pursuing that goal at Point Park as a freshman majoring in intelligence and national security.
"He was only 43, and probably in the best shape of his life!" Lake said of her father. "I'm doing this so that maybe one day I can save someone else's father, or brother, or sister."
Lake, who is from St. Thomas in the U.S. Virgin Islands, selected Point Park after researching several schools throughout the country.
"Everything I saw kept listing Point Park as one of the top schools for that major," Lake said. "I was able to talk to (Associate Professor) Gregory Rogers on the phone, and he also encouraged me to come here." Rogers, who serves as chair of Point Park's Department of Criminal Justice and Intelligence Studies, is also Lake's academic advisor.
"The program is even better than I expected it to be," said Lake. "It's tough, and we have a lot of work to do, but the professors make sure that nothing is overwhelming."
She hopes to work for the U.S. Nuclear Regulatory Commission after graduating in 2013.
"They have a lot to do with controlling what weapons are made, and where they're going," said Lake. "I think that has a lot to do with preventing terrorism."
To help pursue her college goals, Lake applied for and received a private scholarship from a national law enforcement organization that gives such awards to African-American students majoring in law enforcement programs.
At Point Park, Lake balances her time in class with a work-study position in the Department of Criminal Justice and Intelligence Studies office.
In addition to overcoming the normal challenges associated with freshman year in college, Lake also experienced a bit of culture shock when she moved to Pittsburgh from the Virgin Islands, where the average year-round temperatures fall between 78 and 84 degrees Fahrenheit. When she arrived last fall, Lake did not own a winter coat.
"The weather definitely took some getting used to, but I'm fine now. I had never even seen snow until this winter, and I'm a natural at ice skating!" said Lake. "I've already gone twice!"
After growing up surrounded by Caribbean beaches and clear blue water in St. Thomas, Lake has discovered that there is also a unique beauty to be found in Pittsburgh's architecture and bridges.
"At home, there are no buildings over eight stories tall. I've also gone to Oakland, and the South Side ... it's all great." Lake said.
The first of five children to attend college, Lake has adapted well to living so far from home. She said she talks to her family every day, and stays with relatives in Virginia over short breaks from school like the Thanksgiving holiday, or when Point Park closed for the G-20 Summit last September.
With the second semester well under way, Lake is settling in to a new chapter of her life here in Pittsburgh, and working to honor her father's sacrifice. While it's not what she would call home just yet, she has no regrets about leaving the beach behind.
"The best thing about living here is that the people are so friendly and welcoming," said Lake. "I really love it."
Related link
Learn more about Point Park's Department of Criminal Justice and Intelligence Studies
Article and photo by Andrew Weier, senior photojournalism major