more news
Forensic Science Majors Process Crime Scenes Designed by Theatre Students
Wednesday, March 13, 2013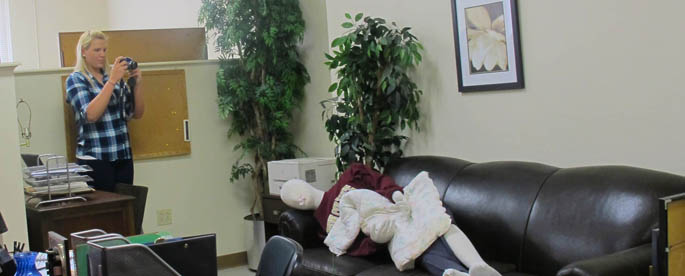 A forensic science student photographs a mock office crime scene in the CSI house on campus.

Forensic science students taking the Development of the Death Investigation System class had the unique opportunity to process a mock crime scene developed by their own peers — technical theatre/design students — in the Introduction to Stage Properties class.
The two classes participated in a hands-on project in Point Park's CSI house under the guidance of Ed Strimlan, M.D., assistant professor and coordinator of the forensic science program and Santina Moran-Seaborne, COPA adjunct faculty member and assistant properties master of the Pittsburgh Playhouse.
The project was divided into three weeks. During the first week, the theatre students evaluated the CSI house and were given an overview about typical crime scenes. They then went to the Playhouse and drafted up crime scenes for a living room, bedroom and office setting.
The following week, the theatre students went back to the CSI House and set up the three crime scenes using hand props, set props, set dressing and even some fake blood. On the final week, the forensic science students processed the crime scenes and some of the theatre students chose to observe.
"Theatre students have a different point of view other than pure science and are experts at thinking outside the box. They added nuances to the crime scenes that we may not have thought to add," said Strimlan.
Kimberly Schlieper, a junior forensic science major, explained that working on a crime scene designed by students in another department made her look at crime scenes in general more creatively. "They made me think harder and look more closely into the many different ways the individuals in the crime scenes could have died," she said.
"It's a great lesson on set dressing for my students, and a more involved investigation for the forensic science students," said Moran-Seaborne.
"This project really benefited all the students involved and was a nice way for two different departments to collaborate," remarked Strimlan.
More About: forensic science, Pittsburgh Playhouse, theatre production, CSI house