more news
GAI Consultants Awards Internship to Electrical Engineering Technology Student
Wednesday, July 30, 2014


Meet Andrew Czopek
Major: Electrical Engineering Technology
Internship: Summer scholarship intern for GAI Consultants, Inc.
Expected graduation: December 2014
Hometown: West Mifflin, Pa.
Hobbies/interests: I play a little guitar and ice hockey when I can.
What are your key responsibilities as an intern for GAI?
This internship seems different than what one may typically come across, at least for an EET major. During my first three weeks, I worked in GAI's transportation department. I was mostly with civil engineers, but the one gentleman I worked with was an electrical engineering graduate. We worked together on safety and control implementations for metro/transit railways, which involved complex systems of track circuits and microcontrollers, as well as electromechanical relays.
After my three weeks in transportation, I worked in the electrical transmission lines department. It was mostly a civil engineering department dealing primarily with the line support structures. However, they did have an area that specialized in power substations. I especially enjoyed what I was involved with there. I did a lot of work on two different transformer replacement projects during the first of which GAI flew me down to West Palm Beach, Fla. From there, we drove to Miami to visit the power substation for an on-site meeting regarding the logistics of the replacement operation. I met and made connections with some very knowledgeable people.
Overall, I am very grateful I was granted the opportunity to meet such bright people and I genuinely consider substation work to be a possible career option. It is nice to know that some of the work I did on drawings will, at a later stage, wind up in production at a site across the country.
In what ways do you think this internship will help you with your career goals?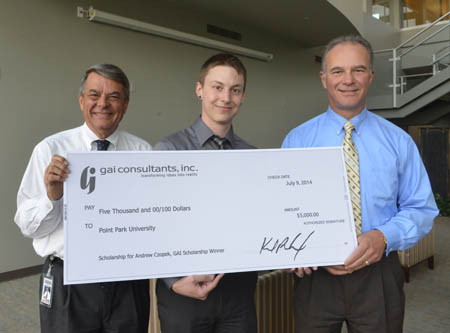 Czopek is pictured with Point Park alumnus/Board of Trustees member Gary DeJidas,
P.E., president/CEO (left), and Point Park alumnus Anthony Morrocco, P.E.,executive
vice president/COO.

Steven DuVal, the electrical engineer who led me in the transmission lines department, stressed this advice: "Take up as many internships as possible." He told me that before he graduated, he had four separate internships under his belt. When he interviewed for a position at a place he had worked for 15 years, he faced some competition. However, he was chosen for the position because of the career experience he had from working those internships.

Many of his internships were in unrelated fields but what mattered was they knew he had been exposed to the type of atmosphere common in engineering such as project deadlines and very heavy workloads. I would like to have a prospective employer look at my experience in the same manner, and this internship at GAI could be the first step toward that goal.
Why did you decide to major in electrical engineering technology?

I wish I could say I had some grand inspiration while growing up that led me to the decision. I've just always been kind of a math geek. Working with numbers and solving problems has always been one of my strengths. After being out in the work force for many years, I realized that in order to be successful, I would have to build a career on that strength in some way. Electrical engineering technology had plenty to offer there, so that's what I chose.
What factors made you choose Point Park?
Smaller classrooms, without a doubt. I knew ahead of time that I would learn most effectively if I could stop the teacher and ask questions if there was anything I didn't quite understand. It seemed unlikely that this would be well received at institutions that had classes of 100 or more students. A professor only has so much time available to students, and the bigger the classroom, the less time each student has for assistance. I knew several people who either graduated from Point Park or were attending the University at the time I was deciding where to study. They told me about the smaller classes. I also heard the electrical engineering technology program was good so it seemed like a smart choice.
What has been your favorite experience at Point Park so far?
I'm going to sound like a real teacher's pet here but I would have to say any classes I've had with Dr. Keller. He's very thorough in his teaching methods and I've always felt like I've learned the most I could after completing his classes. As my advisor, he has been very approachable, helpful and accommodating with any issues or concerns I've had from semester to semester. He's good for a few jokes here and there as well.
Is there anything else you'd like to add?
I am truly grateful Point Park and GAI provided me with this opportunity to get some experience out in the work force in my field of study. It's been a great experience so far and has really given me a look at what the future holds after graduation.
More About: internships, electrical engineering technology, GAI Consultants, engineering technology