more news
Global Cultural Studies Major Traveled to Nepal as Part of Independent Study
Friday, October 26, 2012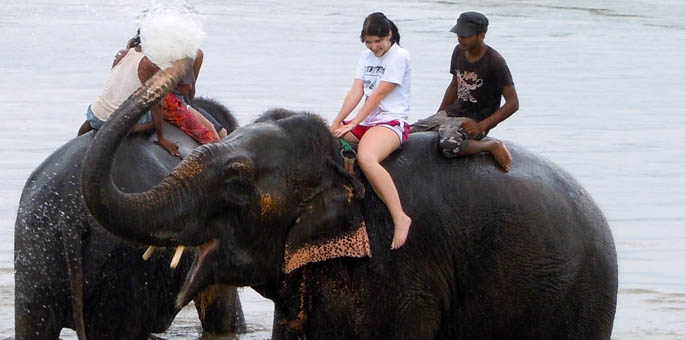 Emily Petsko, center, in Chitwan during her 10-week independent study in Nepal.

Emily Petsko, a senior double majoring in global cultural studies and journalism, traveled to Kathmandu, Nepal, over the summer as part of an independent study. During her 10-week stay, she earned six credits toward her global cultural studies degree as a volunteer in an orphanage and as an intern at the Kathmandu Post, an English-language newspaper.
"My motivation for traveling to Nepal, first and foremost, was to experience a different lifestyle and culture," said Petsko. "The global cultural studies program, in essence, helped me to be a traveler rather than a tourist. I learned that to truly understand another country, you must take an objective look at its history, religion, politics, social relations and values."
Inspired by the International Media Class at Point Park, Petsko created a travel blog, entitled Namaste, Nepal.
Petsko's newsroom experience as editor-in-chief of The Globe, as well as her internship with the Washington Observer-Reporter, laid the foundation for her work at the Kathmandu Post. She was also hired as a freelance writer for the Observer-Reporter during which time she wrote and published four articles documenting her travels to Nepal.
"I was thrilled to have the opportunity to share my stories," Petsko added. "I've had lots of articles published about other people, so it felt strange and exciting to know so many people were reading about my life."
Petsko's achievements are applauded by Channa Newman, Ph.D., professor of French and cultural studies, director of the global cultural studies program, and coordinator of modern languages for the humanities.
"Emily is a genuine student, guided by a desire to learn," said Newman. "Her ambition is matched by her intelligence and integrity."
Helen Fallon, School of Communication professor and director of the university's Honors Program, also praised Petsko's work as a student and reporter.
"I had an unsolicited phone call from her editor at the Observer-Reporter to tell me that she was the best intern the paper ever had. The paper's publisher has told me that several times, too," she said. "I can count those calls over my 26 years at Point Park on two hands. And I know she is doing very well this semester as an intern for the Post-Gazette."
After graduating from Point Park, Petsko said her dream job is to work as a foreign correspondent for a newspaper or magazine in Asia.
Photos courtesy of Emily Petsko
More About: Department of Humanities and Human Sciences, global cultural studies