more news
Global Cultural Studies Senior Plans to Teach Abroad After Graduation
Friday, April 6, 2012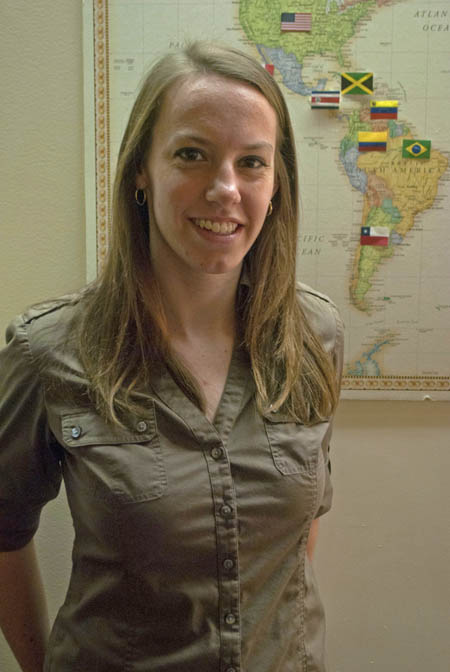 Photo by photojournalism student Leah Irwin

Meet Holly Kuhl
Hometown: Syracuse, N.Y.
Major: Global Cultural Studies
Minors: Dance and French Studies
Graduating: May 2012
Interests: Reading, traveling, dance, running, organizing, and the Occupy Wall Street movement
How did you become interested in global cultural studies?
During my first semester at Point Park, I was a dance major but took a French language class with Dr. Channa Newman. I studied French for six years and wanted to continue learning but it wasn't just the French language that really held my attention, it was the approach from which Dr. Newman discussed learning, thinking, and understanding the world and one's own culture in that world. I didn't want to stop being exposed to these ideas, so I took another class with Dr. Newman in the spring. Over the course of that year, I decided that I wanted global cultural studies to become the main focus of my college career. I felt that this program would really allow me the best opportunities to develop my own perspectives and worldviews.
What makes the global cultural studies program at Point Park unique?
The global cultural studies program is unique in that the focus of the major, though it draws heavily from areas in social sciences like anthropology and sociology, is not necessarily a specific field of study. It does not set out to teach students a subject. Rather, the central purpose is to teach and challenge students to THINK outside cultural constructs such as major, nationality, gender, class, and systems of government. The program facilitates the development of a critical lens that exposes the power dynamics that direct the formation and operation of these cultural constructs. It is a mindset and a lens that is relevant and applicable in all professions and fields of study.

How would you describe the professors in the Department of Humanities and Human Sciences?
The professors are extremely intelligent and very engaging. Each professor has a very cultivated range of knowledge and applies it to a specific area that is unique to their interests. The spectrum of interests represented in the department is extensive, and it is fascinating to hear the research they are involved in and the lenses through which they are examining and experiencing it. I have also found my professors to be very approachable and receptive to students' questions, ideas, research, and feedback.
What are your plans after graduation?
I plan to teach English abroad and am interested in participating in the WWOOF-ing (World Wide Opportunities on Organic Farms) program, which is a network of organic farmers, who, in return for volunteer help, provide food and accommodations. I also plan on going to grad school in Fall 2013. Currently, I'm looking into anthropology or library information science graduate programs.
Is there anything else you'd like to add?
I've had a number of great experiences through the global cultural program that have really left an impression on me. The first of these was studying abroad in Paris with the Wells Arts in Paris program. I also just recently attended the Association of American Geographers 2012 Annual Meeting in New York City with three other global cultural studies students. It was such a great experience! Several of the scholars who have written texts we use in class presented, as well as global cultural studies professors Dr. Dwight Hines and Dr. Bob Ross. Seeing my professors present in front of their peers was very impressive and very encouraging.