more news
Global Environmentalist Gives Inspiring Lecture at Point Park
Wednesday, November 9, 2011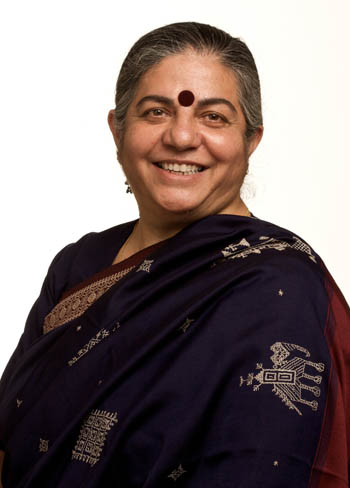 International environmental activist Vandana Shiva, Ph.D., traveled from India to Pittsburgh to speak at Point Park University. Students, faculty, staff and community members packed the George Rowland White Theatre to hear the physicist and dedicated defender of the environment discuss the importance of biodiversity, organic farming, farmers' rights and the de-privatization of water.
"I've seen Dr. Shiva in several documentary films so it was really exciting and inspiring to actually see her in person," said Casy Stelitano, a freshman creative writing major.
Shiva has been named one of the top seven most powerful women in the world by Forbes magazineand has authored more than 20 books. She also has received many awards including the Alternative Nobel Peace Prize (Right Livelihood Award) and the Sydney Peace Prize for her commitment to social justice.
"Dr. Shiva has a phenomenal ability to connect with a crowd. She really spoke to the environmental aspect of what Point Park's global cultural studies program is all about," said Holden Holden, a senior global cultural studies major.
Lindsey Dill, a senior who is double majoring in global cultural studies and photojournalism, liked how Shiva talked about a broad range of global issues. "She brought up a lot of the subjects that we talk about in our classes," remarked Dill.
One of the major issues Shiva discussed was the quarter of a million Indian farmers who have committed suicide after going into debt from being persuaded to plant genetically modified seeds instead of traditional seeds.
"We are not doing agriculture effectively," said Shiva, whose nonprofit organization Navdanya has worked to conserve more than 2,000 rice varieties from all over India and create 34 seed banks in 13 states across the country. "Biodiversity actually produces more. Scarcity is a product of greed not an outcome of the earth's inability to provide."
Shiva explained how biodiversity leads to sustainability and justice. "The respect she has for diversity has been completely lost in popular culture," said senior global cultural studies major John Gillespie. "She was really effective at putting things into perspective globally."
Professor of Global Cultural Studies Channa Newman, Ph.D., hopes what Shiva said will have an impact on the students' thinking and the direction they take their lives. "One must decide whether one is for democracy, equality and sustainability of the planet and its inhabitants or whether to side with thieves and predators often masquerading as innovators. Dr. Shiva has taken the path for life and democracy and away from greed and private interest," said Newman.
Shiva concluded her lecture by encouraging the audience to "celebrate the capacity of every human being" and be the leaders of this generation.
"I think that Dr. Shiva is one of the world's foremost intellectual powerhouses. She was brilliant and articulate. All of her work is incredibly pertinent to issues facing us today, and I think we were lucky as a student body to be able to attend one of her speeches. She makes me feel like no matter how fragmented the world is and convoluted its problems, there are still ways to influence decisions and take direct action to make changes," said Jewell Bohlinger, a senior global cultural studies major.
Shiva's visit was presented by Point Park University's global cultural studies program, which is offered through the Department of Humanities and Human Sciences in the School of Arts and Sciences. The global cultural studies major provides students with an understanding of the complexities of the world, grounded in a familiarity with its historical, philosophical, political, social, cultural, aesthetic, and environmental elements; and the critical thinking and communication skills needed to make agile, confident and informed decisions.
Media Coverage of Vandana Shiva's Visit to Point Park
Pop City Media
"International food chain activist and conservationist comes to Point Park Nov. 2"

Pittsburgh City Paper
"Short List: Oct. 27-Nov. 3: Words"

Pittsburgh Post-Gazette
"Food Column: Speakers"

GlobalPittsburgh.org
"International environmental activist Dr. Vandana Shiva"

Pittsburgh Downtown Partnership
"Lecture by international environmental activist Dr. Vandana Shiva"