more news
Graduate Credits Criminal Justice Professors for Academic Success
Tuesday, June 26, 2012
Meet Amanda Heinbaugh, an academic excellence award recipient for 2012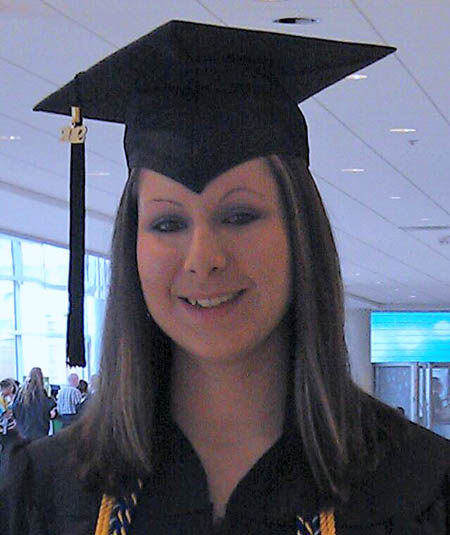 Degree earned: Bachelor of Science in criminal justice
Graduated: May 2012
College activities: Point Park University Honors program, Alpha Chi National College Honor Society, and completed internship with the Allegheny County Jail
Interests/hobbies: Spending time with my family and dog
Hometown: New Kensington, Pa.
Now living in: Saltsburg, Pa.
Why is criminal justice the field for you?
When I was a child, I watched all the CSI shows and wanted to be a lawyer and put criminals away. I have always loved the law and like things to be "black and white." Since then, my career goals have changed a bit. I would like to work in the alternative housing area of the criminal justice field, helping individuals who have served their time in jail successfully transition back into society.

Why did you choose Point Park University?
I transferred to Point Park because the previous two schools I attended were not for me. I felt Point Park had more to offer in its criminal justice program and I had heard that the faculty did not just teach from the book but openly shared their experiences in the field with students.
How would you describe the criminal justice faculty at Point Park?

I consider them family. Everyone is so warm and welcoming. The professors considered us colleagues and did not teach over us. I would not have been able to achieve what I did without the help of my professors. I was honored that they chose me as the academic excellence award recipient for criminal justice and I still keep in contact with several of them.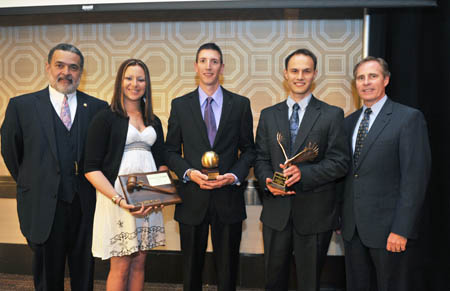 Heinbaugh is pictured with Gregory Rogers, J.D., chair of the Department of
Criminal Justice and Intelligence Studies, (far left); President Paul Hennigan
(far right); and
fellow award recipients Jeffrey Gurski and Patrick Tutka.
What's next for you?
I will be attending Indiana University of Pennsylvania in the fall to pursue a master's degree in public affairs within the Department of Political Science. Overall, I'd like a career in the criminal justice field where I'm able to make changes and have an impact on the legal system.
What advice do you have for students to take advantage of their time at Point Park?
Use your resources, especially teachers and peers, for anything you need help with and get involved as much as possible. Put 110 percent into everything you do.

More About: Honors Program, criminal justice